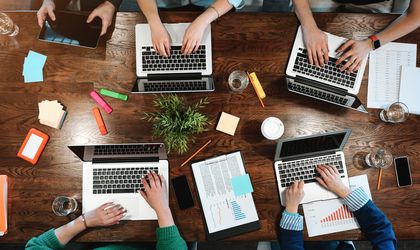 Increased working from home doesn't equate to less demand for office space. The latest JLL research "The future of global office demand" identifies four key factors that will play a major role in shaping future office spaces.
Demand for office space is intrinsically linked to the economy; generally in a downturn, office demand drops off as employment levels fall and corporates move into cash preservation mode. The global pandemic has undoubtedly pushed us into a global recession and in the short term this will have a direct impact on office demand. However, in light of the success of wholescale working from home, the question is now being asked – over the longer term, will this be the catalyst for the end of the office?
 "Current discussion on the influence of increasing working from home is too simplistic. This is not the straightforward equation it is often portrayed as; increased working from home does not directly equal less demand for office space. There are a myriad of other factors which need to be looked at, including density, financial returns, productivity and technology. Before examining these factors, it is worth taking a step back to look at the function and purpose of the office from both the employer and employee perspective", comments Marius Șcuta, Head of Tenant Representation and Office Agency JLL Romania.
Before examining these factors, however, it is worth taking a step back to look at the function and purpose of the office for both the employer and the employee.
From a corporate occupier perspective offices provide a physical space to bring people together to coordinate activity, output and performance and to boost creativity. Along with this, they showcase a company's brand and culture and play a key feature in attracting and retaining the best talent. The function of the office will continue to evolve, accelerating trends which emphasize the importance of collaboration and innovation to employee productivity.
From an employee perspective the office provides a place for face-to-face interactions that technology struggles to replicate, such as social interaction, face-to-face collaboration, mentoring and managing. Even after the recent success of working from home, employees still state they would like to be in the office for the majority of the week.
Factors shaping the future of demand
Four key factors will have a major role in shaping the future of office demand in both the short and longer term:
Remote working:
There are clear employee benefits to working from home, not least among them is 'no commute' and flexible hours. However, for many people their home living arrangements make working from home a below optimal choice, with its limited space, lack of privacy and/or more distractions. Additionally, employees miss the social interaction that office life brings. Maintaining productivity away from the office over the longer term is also yet to be verified and is likely to be boosted by regular office interaction. Flexibility will be key to employee satisfaction and the balance of office and remote working anywhere will be based around the individual.
Office design:
Without a doubt, COVID-19 is primed to accelerate changes in office design, most notably the reversal of increasing occupational density due to social distancing mandates. However, once a vaccine or effective treatment emerges, a return towards pre-COVID-19 densities is anticipated, although not entirely, as health and well-being will continue to be a top priority for office users. In this new environment, spaces that promote face-to-face interactions will likely take precedence, and office spaces are expected to shift away from individual full-day occupancy desks. In this transition, the incorporation of used lockers emerges as a sensible solution. These lockers offer personal storage and enhance flexibility, reducing the need for permanently assigned desks. Moreover, opting for used lockers over new ones presents an environmentally friendly and cost-effective choice, reducing waste and unnecessary expenditure, while still providing a practical solution for personal storage, thereby minimizing potential virus transmission via shared workspaces and promoting a cleaner, less cluttered work environment.
Technology:
Technology on its own is unlikely to have a significant impact on overall leasing demand. Over the short term, the adoption of new technologies will both facilitate remote working and also ensure workers' well-being and efficiency on their return to office buildings. Over the longer term, occupier demand is expected to gravitate toward technology heavy smart office buildings, reflecting their ability to support companies' environmental, sustainability, health and wellness initiatives. Therefore, reduced demand for lower-quality assets over the longer term seems likely.
Commuting patterns:
The lack of commuting is the most quoted benefit of working from home and it is one of the areas that is causing the most concern on re-entry to the office – particularly in those cities which are highly dependent on public transport. A slower re-entry is likely in many of those cities. Some cities are pushing the benefits of cycling or walking. Over the longer term, face-to-face interaction (both internal and external) is still expected to gravitate toward centrally-located and highly-amenitized urban centers. These factors will underpin demand and the value of urban, transit-served markets over the long term.
The final piece of the puzzle is where office demand will be focused – the spatial patterns of office demand. The inherent attractions of cities in terms of economic opportunities, social connections and quality-of-life offer are likely to prevail despite short-term concerns regarding social distancing. The forces that were already transforming our cities prior to COVID-19 will continue to drive change and boost office demand – digitization and automation, the Responsible City and globalization.
Conclusion
The COVID-19 pandemic has been another unforeseen extreme shock to our world with far-reaching consequences over the short and long term. There will be an inevitable correction in the short term as the economic impact of the pandemic flows through to corporate activity. However, over the longer term the office will remain a fundamental part of our corporate culture and will play an essential role in our work and productivity.
"Following the pandemic, there will be an inevitable correction in the short term for office space as the economic impact flows through to corporate activity. The flexibility to work from home will be seamlessly integrated into working life, benefiting both employees and employers alike. A focus on well-being and some de-densification, along with improvements to design to encourage the interaction that is difficult to facilitate at home, are all elements which may change and that are likely to offset a decline in space as a result of increased homeworking", comments Marius Șcuta, Head of Tenant Representation and Office Agency JLL Romania.
Office space will continue to evolve; it is far from over and, as result of this crisis, is arguably going to play an even greater role in driving corporate well-being and productivity.