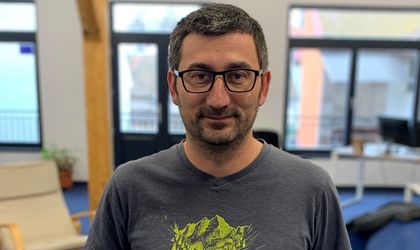 Calin Stefanescu, CEO & Co-Founder of Dora, the Recruitment Robot by Happy Recruiter, will be a speaker at Business Review's first HR event of the year, Working Romania, on April 29, 2020, streamed live online in our dedicated Facebook and LinkedIn groups, Future of Work by Business Review.
Stefanescu, a serial entrepreneur, founded several companies between 1999 and 2006, such as Eweb and Spunk, a web design company and an online custom t-shirt shop respectively, before entering the HR industry in 2007, when he co-founded Transylvania Jobs which later became the Tjobs.eu platform. In 2017 he co-founded another recruiting platform, StartupScouter.com, while his latest endeavor in the HR industry is Dora, the Recruitment Robot by Happy Recruiter, a personal HR assistant robot that searches for candidates online and interviews them according to your requirements, where he also serves as the CEO.
The robot, which was launched in March 2018, aims to support companies and make the recruitment process easier by identifying, interviewing and scheduling candidates for online or offline interviews. Dora looks for candidates in social media networks and asks them questions from recruiters. You can read more about Dora and the six-figure investment the company received in 2019 in this BR article from April, last year. Also, you can check out the following video to see how Dora works (in Romanian):

At Working Romania, Calin Stefanescu will surely be one of the headliners of the event, thanks to his 13-year experience in creating recruitment platforms that helped thousands of both employees and employers.
Find out more about Working Romania's agenda, speakers, and partners.