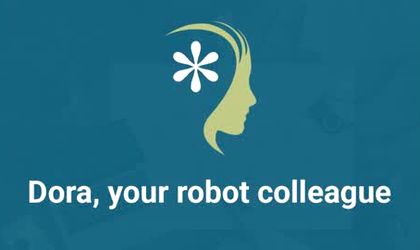 Happy Recruiter, a tech company from Tirgu Mures that developed the Dora recruitment robot which helps companies find new employees, has received an investment of over EUR 1 million from Belgian group House of HR, which took over a 20 percent stake in the company.
The Dora robot, which was launched in March 2018, aims to support companies and make the recruitment process easier by identifying, interviewing and scheduling candidates for online or offline interviews. Dora looks for candidates in social media networks and asks them questions from recruiters.
When candidates are rejected by recruiters, Dora brings in new candidates and suggests better options to those who were rejected, based on their experience or interests. An interview with Dora takes between 3 and 13 minutes.
It takes an average of 5-6 days for the employer to approve of a new worker after their interview with Dora takes place.
In its first year, Dora carried out over 277,000 interviews and generated revenues of EUR 260,000. It speaks Engllish, Dutch, Romanian and will soon learn German.
Happy Recruiter has seven co-founders: Madalina Nemethi, Raluca Stefanescu, Dragos Lup, Liviu Livanu, Andrei Cornea, George Cheteles, Calin Stefanescu.
The value of the investment made by House of HR in the Romanian firm has not been made public, but the CEO says it was a six-figure sum.
House of HR manages 9 operational companies and 29 brands related to recruitment, temp work and consulting. It has over 500 offices in over 10 countries and had a consolidated turnover of EUR 1.8 billion in 2018.