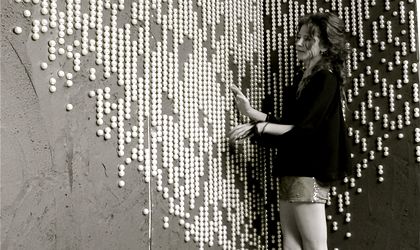 At the beginning of September, I had a walk on Calea Dorobanti, a place where luxury and good taste used to come together. Now, most of the stand-alone stores are closed and big banners with "to let" rule the space instead of the beautiful shop windows that were previously there. However, among this almost melancholy scenery, a lavender Provencal décor caught my attention, the Madison,  absolute beauty perfumery. Later on, in my inbox, I discovered the artist behind this Provencal escape inside Bucharest, architect Mihaela Damian, founder of MD Architecture & Design, with whom I talked about beauty in all forms, especially in her designs.
Tatiana Lazar
After I googled you, I discovered your signature-project, pearls used as interior design objects, your innovation Pearl Panels. How did you come up with the idea of using pearls?
I'm not really a fan of wearing jewelry, and this is the reason I like only a few pieces, pearls included, which I can't wear however as they're too classic for my style. But I like pearl's texture and the fact that you can find it in nature, in perfect condition, no polishing necessary. I saw the pearl as more than a piece of jewelry, and then the inspiration came, with influence from the well-known painting, Girl with a Pearl Earring, by Dutch painter Johannes Vermeer.  Also, the idea of a sphere and ball, something that can be easily found in nature and in the universe is good to present in a space and can be considered more relaxing than other things. This is why I started to "play" with the pearls, to put them in a context that most of us wouldn't think of. As part of my professional philosophy, I tend to do things in an unexpected way, making mostly only one object.
You received the Innovation Award at Maison & Object Paris in 2012. What did this prize mean for you?
Firstly, I designed a bathroom from pearls, more precisely a shower's interior, something unique in the world. From that moment, pearls became my signature. Paris was my confirmation that I could do it and I started to  follow my professional road from there.
From where do you source the pearls?
I have some international suppliers because high quality is difficult to find in Romania. I use big pearls in my designs, from 0.5 cm diameter to 2.5 cm diameter therefore I need quality in order to work with them, especially because being so big, the imperfections can be seen.
Where does your works fit? Are these ordered for the horeca chains,  hotels, boutiques or homes?
A French journalist told me that what I create can be named "functional work of art", so it can be put almost everywhere. This was one of the things I had in mind as an architect when I first created the product. It can be adapted and can be used therefore in any type of space: bars, restaurants, offices, hotels, and even residential locations. One client asked me to design an outdoor fountain of pearls for his garden. I only need to know the place where the product will be placed in order to create something. Moreover, the product is very resistant to water and any other harsh conditions as it's made to be very solid and robust for intense usage.
How much does it cost to have such a work of art?
It is difficult to say because there are many factors to take into consideration. Also, the product is a luxury one, especially because it's unique, personalized and handmade. Prices can start from EUR 600 sqm for the simplest model and go up depending on the dimensions and the complexity of the project.
I discovered you through a shop window. Do you consider we have visual merchandising in Romania?
Although the trend has emerged for a while now, unfortunately, it can't be seen very often on our local streets. Maybe one of the reasons is the fact that we don't have a large variety of luxury shops or shops which can afford the visual merchandising concept – thus including designers, architects or even artists.
How would you describe yourself: an artist, an architect or a designer?
I haven't yet found an answer to this question. It is something that I ask myself once in a while, and I think I'm a bit of an artist, an architect and a designer, together making a whole, a complete sphere.