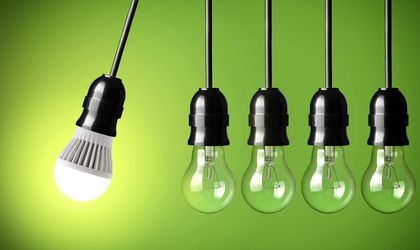 From greening their business to training the next generation of entrepreneurs, from funding SMEs to bringing an ailing company back from the brink, some players on the local market defied the tough trading conditions to shine in 2015. This year's Business Review Awards celebrate these high achievers. Who are they, and what did they do?
Judging criteria: Development of the business over the past two years; unique characteristics of the business; results achieved against investment and the overall industry; ethics and values exemplified in the business; the added value of the business on the market.
Alexandru Lapusan, Zitec.com
Despite the very high competition in the IT sector, Alexandru Lapusan has managed to achieve another consecutive year of growth for Zitec.com, a Romanian privately owned software development company. Zitec has grown with 40 percent in 2015, reporting about EUR 4.5 million in revenues (with only private sector customers, based in 14 countries.) Zitec has continued its investment strategy, announcing a couple more investments in 2015, among which Citinite (UK) and cosQuare (NE).
Andrei Pitis, Vector Watch
With over 20 years of experience in the IT industry in Romania and the United States, Andrei Pitiș is Founder and CTO at Vector Watch, as well as President of ANIS (Romanian Software Association). In 2013, Andrei founded Vector Watch. Today, he is in charge with the technology development of Vector smart watches and also deeply involved in building the strategic global expansion of the company. Since its official launch of the watch in October 2015, Vector is now being sold in Romania, United Kingdom, USA, Switzerland and Australia.
In the upcoming months, Vector will be launched in other European markets such as Poland and Hungary. Till the present, tens of thousands of units were sold globally.
Dan Isai, Saladbox
Dan Isai, aged 29, is the founder of food company Salad Box, which aimed last year to consolidate its position as leader in the local healthy fast food industry. In 2015, the company has increased the number of locations by 35 percent and has registered a boost in turnover.
Marius and Dan Stefan, Autonom Rent a Car
Last year, the company registered a 25 percent increase in turnover and opened new locations. Its fleet grew from 2,000 cars at the beginning of the year to 2,500 cars until the end of 2015, with a peak of 2,800 cars during the summer. On retail reservation volume, the firm reported a 30 percent growth. Last year, Autonom Rent a Car took over a company specialized in corporate shuttle services – VMS, and launched a long term rental info website.
Here are the other categories from the BR Awards: Community Involvement, Online Strategy for Business Development, Innovation in Technology, Best Startup Supporter, Best SMEs Financing Line Program, Best Turnaround Strategy, Best Employment Initiative, Deal of the Year, Business Leader of the Year, Excellence in Business, Best International Expansion.