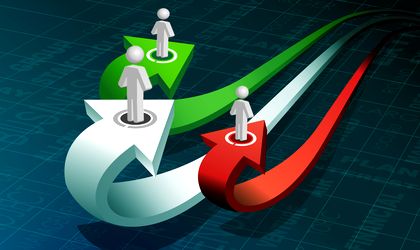 From greening their business to training the next generation of entrepreneurs, from funding SMEs to bringing an ailing company back from the brink, some players on the local market defied the tough trading conditions to shine in 2015. This year's Business Review Awards celebrate these high achievers. Who are they, and what did they do?
Judging criteria: value of the transaction; impact within the industry/local business scene and the economy as a whole; novel elements characteristic to the transaction.
Banca Comerciala Romana (BCR)
Facing multiple difficulties following exposure to a quarter of the crisis-hit Romanian economy, Banca Comerciala Romana embarked on a complete turnaround of its business, setting the base of sustainable business development in the new economic cycle. BCR overhauled its entire business in terms of network restructuring and personnel optimization, process and product streamline, cost structure, nonperforming loans resolution, business strategy and market positioning, internal culture. It optimized its branches from 700 to 551 and rearranged the local footprint in order to match business potential. Staff was decreased from 9500 to 7400 people. The lender overhauled its entire structure reaching a 30 percent lower cost base than the start moment of its turnaround process. BCR built a workout structure of close to 400 people who managed to reduce, by various strategies, the diminishing of close to 50 percent of its nonperforming loans stock.
Bancpost
Following the international financial crisis, and in line with the banking system in Romania, Bancpost found itself with declining performance due to various external and internal factors. Therefore, in the last quarter of 2014, a transformation strategy was put in place with the aim not only to put the bank back on profit, but also to generate a sustainable recovery and long-term growth. The transformation plan was forecasted to reach the breakeven point in 2015 and be profitable in 2016, but Bancpost managed to outdo its goals and reach profitability one year earlier, in 2015.
Hidroelectrica
Hidroelectrica is currently in insolvency but it has reported a gross profit of RON 1.1 billion in 2015, at a turnover of RON 3.2 billion. The profit recorded in 2015 is 3.5 times higher than that reported in 2010 of RON 292 million. Hidroelectrica has become the only insolvent company in Romania that has paid debts at nominal value, the last installment of the 24 related to the body of creditors being paid on June 20th 2015. Back then, it registered a historical moment, when the amounts cashed from interests exceeded the amounts paid as interests.
Here are the other categories from the BR Awards: Community Involvement, Online Strategy for Business Development, Innovation in Technology, Best Startup Supporter, Best SMEs Financing Line Program, Best Employment Initiative, Entrepreneur of the Year, Deal of the Year, Business Leader of the Year, Excellence in Business, Best International Expansion.