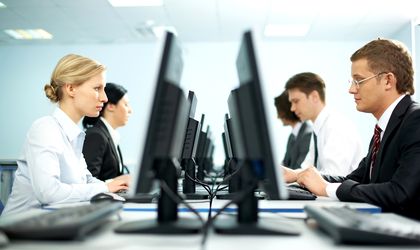 From greening their business to training the next generation of entrepreneurs, from funding SMEs to bringing an ailing company back from the brink, some players on the local market defied the tough trading conditions to shine in 2015. This year's Business Review Awards celebrate these high achievers. Who are they, and what did they do?
Judging criteria: training programs and HR retaining policies; HR policies meant to maintain/increase the competitiveness and workforce productivity; the net personnel increase vs. the net of the industry (percentage also); the industry growth and its importance for the Romanian economy.
Atos for "Learning to Succeed program
The "Learning to Success" internal program aims to help manage the company's talents and build a culture of development according to the company's strategy of investing in its employees in order to build new skills and add new values to its workforce. The company implemented this by rolling out a "Management Career Path" program and two "Leadership Development Programs". Through the "Learning to Success" program, the company says it has increased the engagement of its employees and accelerated digital resources for training and certification.
Lidl Romania for "Next Store Manager" program
In 2015, Lidl implemented a program called "Next Store Manager", which aimed to improve the leadership and management capacities of its employees. Lidl has allocated EUR 5 million for this initiative in Romania and it was developed following a pilot project that was started earlier in Germany. Lidl said it has created a professional and efficient organizational model to streamline the promotion and development of its employees, at all hierarchical levels and throughout all departments. The program focused on the development of key competences, split in five categories: professional, personal, leadership, entrepreneurial and social.
Luxoft for High Performers Club
High Performers Club is a leadership development program aimed at creating a strong management pool with readiness for relocation in the context of continuous and fast growth, both organic and by new business development. The program is designed for two levels of expertise – Bachelor and Master and consists of seminars on Luxoft business acumen (leadership, sales and delivery in the context of Luxoft global culture) delivered by members of top management nominated as Supervisors for the groups of participants.
TELUS International Europe for encouraging its employees
BPO services firm TELUS International Europe, has boosted the number of employees from 283 in January 2014 to 700 in December 2015. Last year, the company relocated all its employees to a new office space located at AFI Park, with 5 floors and 5, 200 square meters. TELUS said this move will help further increase its team to 900 this year and provide even more amenities and services to employees.
Here are the other categories from the BR Awards: Community Involvement, Online Strategy for Business Development, Innovation in Technology, Best Startup Supporter, Best SMEs Financing Line Program, Best Turnaround Strategy, Entrepreneur of the Year, Deal of the Year, Business Leader of the Year, Excellence in Business, Best International Expansion.