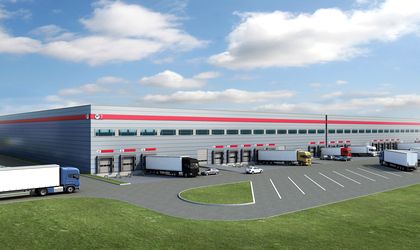 Real estate investor P3 announced the signing of a prelease contract with Carrefour for an 81,000 sqm logistic hub. The complex will include a build-to-suit refrigerating space of 15,000 sqm and an already existing storage house.
Through this partnership, the retailer will double its spaces, according to Anca Damour, director of property and corporate affairs of Carrefour.
Czech PointPark Properties (P3) had started at the beginning of September the construction of a speculative 28,000 sqm logistics space, which will be included in the Carrefour partnership. Construction works on the first building in the hub has started in October 2015, with spaces included in it being projected to be handed over to Carrefour in stages between April and October 2016.
These are the first newly built and build-to-suit projects of P3 since acquiring the former Europolis Logistic Park (now P3 Bucharest) from CA Immobilien Anlagen AG at the beginning of the year. According to the developer, the new buildings will increase P3's portfolio in Romania, which already includes eight storehouses totaling about 270,000 sqm.
"It's one of the biggest contracts P3 has concluded this year on the logistics market in Central and Eastern Europe. The fact that a company of the quality and size of Carrefour became our client in a project of this magnitude is a great achievement for P3. Romania grows fast as a market and our ambitions are very high here. After buying P3 Bucharest, the largest logistics park in the country, earlier this year, we are very excited to make a new step with our first build-to-suit project. This transaction certifies the many qualities of the park, including the location and facilities, and P3's ability to deliver buildings designed based on customer needs quickly and efficiently in terms of costs. Carrefour is one of our customers in France and we are delighted to work with them in Romania also," said January Worboys, P3 CEO.
The project is located at kilometer 13 on the A1 highway and is fully leased. According to P3, the park allows for further developments over 114,000 sqm, with units starting at 4,000 sqm and going up to 40,000 sqm.
P3 is an investor, developer and manager of logistic property across Europe. Its portfolio includes 145 storage spaces in nine European countries, totaling 3 million sqm, and land covering some 1.3 million sqm.
Carrefour Romania has 185 units (28 hypermarkets, 103 supermarkets, 53 proxy stores and an online store) and 10,000 employees. In 2014 it posted a turnover of EUR 1.01 billion. The retailer is part of a European group with over 10,800 stores in 34 countries and employing 380,000 people, with a turnover of EUR 100.5 billion in 2014.
Natalia Martian