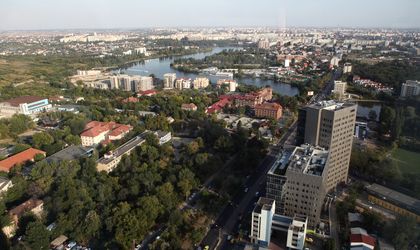 The total leasing activity with office space in Bucharest has remained relatively stable in the first half of 2015 compared to the same period last year totaling some 135,000 sqm, according to data from real estate services firm DTZ Echinox. While the overall volume stayed the same, new demand for office space (meaning relocations from old stock, expansions of existing leases and new operations) was up by 35 percent y-o-y.
Out of the 135,000 sqm of office space leased in Bucharest in H1, net take-up represents more than 80 percent, (112,000 sqm) and was divided between relocations within A and B class – 44 percent and new demand – 56 percent. Compared to the same period last year, net take-up was higher by 3.5 percent and the ratio between relocations within modern office stock and new demand has reversed.
An important evolution in the first part of the year was that the volume of pre-leased space was up by 50 percent. Approximately 59,000 sqm were pre-leased in the first six months of 2015, representing 52 percent of net take-up. Pre-lease transactions were the largest deals in terms of area (e.g. Genpact – 22,000 sqm, Oracle – 20,000 sqm, Carrefour – ~7,000 sqm, NNDKP – ~6,000 sqm).
Three new office buildings were delivered in H1, having a total GLA of 54,000 sqm: City Offices, Auchan Tricodava and Green Court – building B. Currently under construction with delivery date by year's end are 100,000 sqm of modern office space, about half of which is concentrated one project – Bucharest One.
Over the next 18 months 345,000 sqm of office space will be completed in Bucharest more than 70 percent of which will be delivered next year. Overall the level of new supply in 2016 is forecasted to become the highest in the last five years.
The overall vacancy rate for class A & B office space in Bucharest varied throughout the first six months of 2015. Experiencing a slight increase in Q1, the vacancy rate has started to follow a downward trend in Q2 and at the end of June it stood at 13.5 percent. In total there are 300,000 sqm of modern office space vacant in the capital, the largest volume being located in Pipera North (26 percent) and North area (17 percent). The lowest vacancy rates were reported in CBD (Victoriei – Aviatorilor) – 5 percent, West – 5 percent and Central North – 9 percent. By the end of Q4 2015 Bucharest's vacancy rate is expected to reach a level of around 12 percent, according to DTZ data.
Rents underwent no major changes in the first semester with prime headline levels standing at EUR 18.5 /sqm /month. In CBD headline rents for A class office space are between EUR 15 – 18.5 / sqm / month, while in Central North are in the range of EUR 15 – 17 / sqm / month. In semi-central locations the headline rents for prime projects are around EUR 12 –15 / sqm / month, while in peripheral areas A class office space is transacted between EUR 8 –11 / sq. m / month.
Simona Bazavan