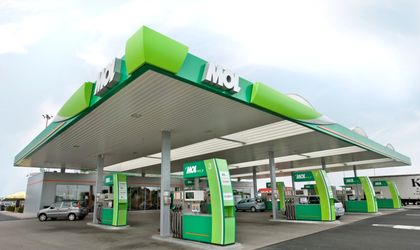 MOL group has had positive results for 2015 on the Downstream segment in Romania, with retail sales (including fuel, LPG and lubricants) going up 17 percent, from 501 kt in 2014 to 586 kt, according to the group's financial statements. Positive developments were supported by the company's inorganic expansion.
Diesel sales advanced 15 percent to 419 kt, while gasoline climbed 18 percent to 152 kt.
During the last quarter of the year retail sales reflected the year's positive path with a 20 percent rise over the same period of the previous year, with diesel climbing 20 percent to 110 kt and gasoline 18 percent to 39 kt.
At group level, MOL registered an 11 percent hike in sales over the previous year, reaching 3,916 kt of fuel sold. According to the report, the Downstream segment posted the best result in its history last year, bringing in almost double the profits it did in 2014. The Downstream operational profit (Clean CCS EBITDA) stood at HUF 463 billion (USD 1.65 billion), mainly brought on by internal efficiency programs initiated in 2011.
"The oil and gas industry, including MOL, faced one of the toughest market contexts recorded in the last 2 decades after oil prices fell by more than 70 percent compared to the summer of 2014. Despite these difficulties we managed to improve our operating result by 13 percent since 2014, exceeding our estimates, we generated substantial free cash flows and we ended the year with a very solid balance sheet situation," commented Zsolt Hernadi, the group's CEO.
The Gas Midstream segment (natural gas transportation) had an annual contribution of HUF 60 billion (USD 213 billion) in 2015, similar to the levels registered in 2014.
"In addition, the Next Downstream program already exceeded our expectations in the first year of application. At the same time, we are in the process of adapting the processes of Upstream Division to enable it to operate profitably, both in CEE and internationally, even at a price level of USD 35 per barrel oil. Our main goal for 2016 is to achieve an EBITDA level of USD 2 billion and generate cash flows large enough to cover domestic needs both for investments and pay dividends to our shareholders, even in difficult market conditions," the CEO concluded.
MOL group is a Hungarian company active across 40 countries, employing 27,000 people. The group has production operations in eight countries and exploitation sites in 14 countries. The group controls four refineries and two petrochemical units in the integrated management of the supply chain in Hungary, Slovakia and Croatia. The company also has a network of approximately 2,000 filling stations in Central and South Eastern Europe, in 11 countries, of which 200 in Romania.
Natalia Martian