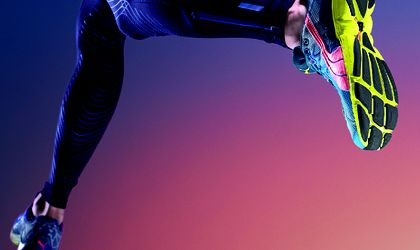 Local runners have long been a fixture at athletics competitions, with a sporting culture that predates the First World War, when the Romanian Athletics Federations became affiliated to the International Association of Athletics Federations. BR found out if this activity has now gone mainstream.
[restrict]
Oana Vasiliu
The increasing number of marathons and other such sporting events makes one wonder whether Romanians have started to understand the importance and benefits of doing physical activity. The answer is yes, according to Sport in Romania – The link between Brands, Companies and Sports. The report by Quantix Marketing Consulting reveals that 50.7 percent of Romanians participate in at least one sporting activity per year, and over 90 percent of respondents believe that exercise can improve their health.
"Romania has had several athletes that have distinguished themselves in worldwide competitions since the last century. What happens now is that we have started to build a sporting pyramid, with a very good base formed of hundreds of thousands of amateur runners that participate in competitions," said Bogdan Antohe, managing partner of SmartAthletic, a sports events company.
According to the results of the latest Eurobarometer survey on sport and physical activity, released in March by the European Union, 59 percent of EU citizens never or seldom exercise or play sport, while 60 percent of respondents in Romania said they did so at least once a week. Although the nation is not as physically active as Northern Europe, which scored above 70 percent, the number of local races is rising every year, for children, amateurs, professionals and even runners with special needs.
"I've been doing sports events for ten years now and the results are amazing. For example, the first Bucharest International Marathon had 800 participants, while in 2013, six years later, some 8,000 runners lined up at the starting line. Triathlon Challenge Mamaia (swimming, biking, and running) has posted similar growth, with 100 participants in 2008 and almost 1,000 five years later. When it comes to kids' events, Trikids had 50 participants three years ago while the last edition had over 600," added Antohe.
If you're tempted to join the movement, what will you need to start pounding the pavement? A complete jogging outfit can vary from RON 120 to several tens of thousands.
Antoniu Nituleasa, operational director of Genco Romania, gave the following examples: a basic outfit could consist of a Pro Touch Martin running t-shirt (RON 19.99), Marcus UX Pro Touch running pants (RON 26.99) and Pro Touch Elixir trainers (RON 69.99). For high-end attire, he recommends Nike products, the Miller running t-shirt (RON 129.99), Filament Tights (RON 179.99) and Asics Gel-Kayano running shoes (RON 809.99). At Genco Romania, Nike and Adidas brands are the best sellers.
When kitting themselves out, athletes should focus on footwear.
"Running shoes are very important, because they give a valuable boost of energy that increases both the quality and duration of running. They also protect and give comfort to feet and legs, especially to the muscles, bones and ligaments, which is much needed in this activity," said Adina Militaru, head of marketing at Puma Balkans.
For foot support, Puma has launched special trainers called Mobium (from RON 549.9), a revolutionary pair of shoes which are not horizontal like the other running shoes available on the market, but with a form that follows the human sole, slightly convex, so it folds while running.
Photo courtesy of Puma
[/restrict]