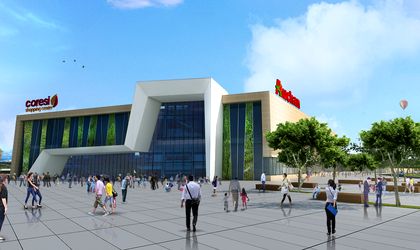 The EUR 60 million first phase of the Coresi Brasov real estate project will be delivered in the first quarter of 2015, probably March, said Tatian Diaconu, general director of Immochan Romania, the project's developer, in a press conference today.
Immochan Romania is the real estate division of the Auchan Group which operates a network of 31 hypermarkets in Romania.
The first phase of Coresi Brasov will comprise an Auchan hypermarket (13,000 sqm) and a commercial gallery (32,000 sqm) which in turn will feature some 130 stores, a cinema multiplex (8 projection rooms), a food court (3,500 sqm) and an entertainment area (1,500 sqm). The developer has completed works on the hypermarket's structure and some 40 percent of that of the commercial gallery, said Diaconu.
So far, the project is approximately 60 percent leased and could reach 80-85 percent by the beginning of summer, said Ali Ergun Ergen, the former CEO of Anchor Group and Baneasa Developments and now consultant for the project. Because of the new concept it proposes, that of a 'shopping resort', the opening of Coresi Brasov will mark the launch of the new generation of shopping malls in Romania and will open a new road for local developers to follow, he explained. There is greater focus on the entertainment component and the project aims to attract shoppers by offering them more than a destination to shop, said Immochan representatives.
Immochan has signed Inditex which will be present in Coresi Brasov with all its retail brands except Zara Home and Kenvelo and is now negotiating with H&M, New Yorker, Waikiki and Koton. New names on the market will join the tenants' list and there could also be some 'relaunches' of players who left the local market and will be returning, hinted Ergen. One novelty will be the creation of retail spaces dedicated to craftsmen from the area of Brasov.
Coresi Brasov is developed on a 100 plot of land part of the Tractorul industrial platform in Brasov (190 km from Bucharest) which Immochan bought in 2012. It is located some 1.5 km from downtown Brasov and will benefit from a catchment area of 500,000 inhabitants from the city of Brasov (it has around 250,000 inhabitants, according to a 2011 census) and other neighboring areas. Immochan representatives also estimate that the project will attract the 800,000 tourists that come to Brasov and the region each year.
The development of the entire project is estimated to take 15 years. In addition to the mall's building, it will also comprise several other retail boxes (DIY store, furniture store, sports store, electronics store) and a service station.
Expanding into residential
April 2015 should mark the beginning of works for a residential development on the grounds of Coresi Brasov, announced Diaconu. It will include an estimated 2,000 apartments and it will be developed by a selected partner, which he said it will most likely be the developer of the Avantgarden 2 residential project in Brasov. Discussions are in an advanced stage, but the actual form the partnership will take has not yet been decided and the final deal has not yet been signed, he added. One possible partnership option could be for Immochan to sell the 36 hectares of land for the residential project to the developer, added Diaconu.
A crowded market
In addition to Coresi Brasov, another three retail projects have been previously announced in Brasov – Korona, developed by Polish Echo Investments, a Cora retail project and an extension of the Carrefour hypermarket in Brasov, done by the retailer in partnership with NEPI – but construction has yet not started for any of these projects.
Brasov can absorb another 50,000 – 55,000 sqm of modern retail space, according to a study carried out by Immochan, said Diaconu.
Read more in next week's print edition
Simona Bazavan