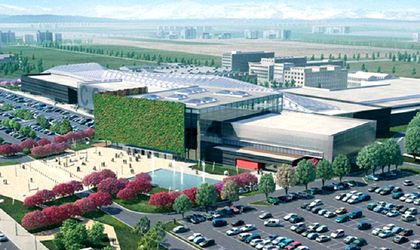 The Coresi Shopping Resort in Brasov, developed by Immochan, the real estate division of French retailer, scheduled to open next spring, is 75 percent constructed at the end of November, the company announced Monday, quoted by Mediafax newswire.
Immochan invested EUR 60 million in the shopping resort which currently has an 80 percent occupancy rate with the first spaces awaiting delivery in December. The project includes an indoor entertainment center and a cinema with 3,200 square meters and 8 digital theaters.
Coresi will also have a 32,000 sq m shopping gallery and a parking lot with 2,400 spaces.
Immochan bought the 100 ha terrain in 2012 on the former site of the Tractorul industrial platform.
Immochan is the real estate branch of Auchan and at present manages nine shopping galleries in Romania, three of which in Bucharest and six spread out in the country.