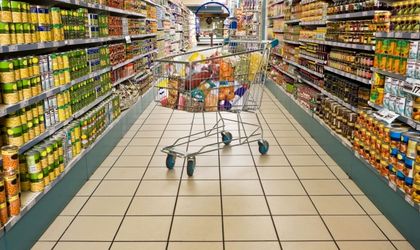 85 percent of Romanians will spend Easter at home and will spend on average RON 359 on groceries according to a study from MEDNET Marketing Research Center, quoted by MEDIAFAX.
The big retailers are getting ready to receive millions of shoppers around the country looking to buy eggs, pastry products, meat, alcoholic drinks (specifically wine) and presents. Business Review gives you a rundown of how the retail industry is getting ready to survive Easter and how the stores, hypermarkets and supermarkets will run around the Holidays.
Easter is an "eggciting" time
According to the MEDNET study, 64.8 percent of Romanians will dye eggs at home, while 17.2 percent will buy red eggs from the store. Romanians buy approximately 50-60 million eggs every year around Easter, says Ilie Van, president of the  President of the Romanian poultry breeders association.
"Every month, Romania records sales of approximately 100 million eggs. In April though, because of Easter, sales reach 150-160 million eggs", Van explained.
In stores, eggs are sold at around the same prices as in march, namely RON 0.45 to 0.5, although factory prices drop 15 percent. Going at RON 0.5 (EUR 0.1), Romanians will pay EUR 5 million for eggs in April.
Cozonac (traditional Romanian cake) and pastry
Nearly 50 percent of respondents in the MEDNET study said they will buy their cozonaci in the stores, and 33.6 percent choose to bake their own sweet breads in house.
Bread distributors and bakers are preparing an offer of over 7 million traditional Romanian cakes for this year, a number similar to the market's Christmas offer. Prices will remain at the same level as they were last year, namely RON 5 – 40 per cozonac.
Aurel Popescu, president of Rompan, the Romanian Employers' League of the Milling, Bakery and Flour-Based Products Industry (ROMPAN) says:
"We have the same offer as for Christmas with 7 million cakes, the only difference being we will make a lot of pasca (traditional Romanian bread with cheese), probably a couple of hundred thousand pieces. Every year, the quantities we distrivute are about five times bigger on Easter than in a regular month of the year. The prices remain unchanged compared to last year, varying between RON 5 and 40 per piece, but we will also produce cozonaci that weigh three kilograms and will cost RON 130".
Popscu specified that Rompan is handling international orders, with 200,000 pieces of sweet bread heading for Italy, Spain, Canada, USA, Germany and other countries that house big Romanian communities.
According to the cited sources, over 80 percent of Romanian consumers prefer traditional recipes for cozonac, in spite of the larger offer of international products (Panetone type products), which in turn are preferable choices for presents.
As far as the VAT cut is concerned in the baking industry, the ROMPAN chief said that so far fiscally recorded production for bread and bread products is up after five months since the cut, but final data will be submitted after six months have passed since the procedure was introduced.
"After five months it's looking good: fiscally recorded production is up 25 percent for flower and 20 percent for bread", Popescu explained.
For the meaty memories
Nearly half of Romanians (49 percent) in the urban environment intend to buy lamb meat to celebrate the Resurrection. The number of meat consumers that opt for lamb goes up 7 percent if you count the people who will receive food from family or friends. Furthermore, 5.3 percent of respondents to the MEDNET study said they can't afford to buy these types of traditional meats. Some of them said they will opt for cheaper options, such as pork or chicken.
Drob is an important part of the traditional Romanian Easter menu.  42.8 percent of respondents said they prefer to prepare traditional lamb-meat dishes such as drob at the home instead of buying it in commerce.
Some retailers want to become more than a source of groceries, but a partner in the kitchen throughout the Easter Holidays. For example Selgros published a special catalog of "drob" recipes, to bring variety to Easter dinners but also to encourage Romanians to rediscover the traditional meal.
Retailers have nothing to "wine" about 
Wine sales increase significantly during the Easter holiday and one week will see volumes similar to those sold in a month, according to Ovidiu Gheorghe,  the president of the Vine and Wine National Owners' Association.
"During this time, wine commerce records a weekly sale that you would regularly get in a month. The biggest success story is red wine, on account of its special significance around Easter. White wine sales also increase. In general, sales increase on all segments, consumers and premium (more expensive wines are offered as presents, especially in the corporate world)", Gheorghe explained.
It's impossible to put a number on the quantity of wine sold in this period, but producers say that Romanians will consume over 200,000 hectolitres in fiscally-recorded commerce.
As far as prices are concerned, the PNVV chief considers that, lately, the medium and economical segments registered price decreases of 1-1.5 RON per litre.
"We've hard a very good year for wine in 2013. Prices dropped in the medium and economic segments, with about RON 1 – 1.5 per litre. Prices for superior and premium wines don't fluctuate as much, but these are generally obtained from older crops and have a constant yield in terms of quantity", Ovidiu Gheorghe explained.
The wine marked lost EUR 100 million in the last years, affected by the crisis. In 2009, it reached a value of EUR 450 million. The National Wine Organisation confirmed recently that Romania comes in 12th among the greatest wine producers in the world, with a 4.276 million hectolitres, a 29 percent increase on year.
Receive the light of the Easter holidays in your soul… with a present
70 percent of the people MEDNET questioned said that they will buy presents for their loved one this Easter. The main beneficiaries will be significant others (60 percent). Also, more than half of the respondents said they will buy presents for their parents (58.4 percent), children or nephews (52.7 percent).
Most of urban-dwelling Romanians will purchase food products, clothes, and special accessories to offer as gifts. Furthermore, more than half of participants in th study will treat themselves to clothes, shoes or accessories, choosing to honor the tradition of "renewing" yourself for Easter and Spring.
Retailer's special Easter Schedule:
Mega Image 
April 19: 8:00 – 20:00*
April 20: closed
April 21: 10:00 – 18:00
Carrefour
Carrefour Orhideea
April 14 – 18: 7.00 – 24.00
April 19: 7.00 – 19.00
April 20: closed
April 21: 7.00 – 23.00
Carrefour Berceni
April 14 – 18: 8.00 – 24.00
April 19: 8.00 – 19.00
April 20: closed
April 21: 8.00 – 23.00
Carrefour Unirii
April 14 – 18: Non-Stop
April 19: until 19.00
April 20: closed
April 21: 8.00 – Non-Stop
Rest of units
April 14 – 18: 8.00 – 24.00
April 19: 8.00 – 19.00
April 20: closed
April 21: 7.00 – 22.00
April 19: 6.00 – 16.00
April 20: closed
April 21: 7.00 – 20.00
April 14 – 18: 8.00 – 23.00 (most units, except Auchan Titan and Auchan Vitan with 7.00 – 24.00 schedules)
April 19: 8.00 – 18.00
April 20: closed
April 21: 8.00 – 22.00
Diana Petrescu