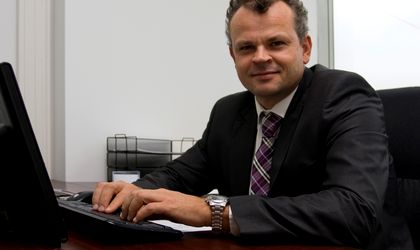 Radu Merica, president of the Romanian-German Chamber of Commerce and Industry (AHK Romania), says German companies, which have remained active investors despite the crisis, are grappling with overdue receivables from the state worth close to EUR 100 million and slow rulings in court, hampering their local operations.
By Ovidiu Posirca
What are Romania's strong points compared with its peers in CEE?
We have resources, a well trained work force – not necessarily at the high school graduate level, more in terms of university graduates – and we have natural potential. We have all the conditions to generate industry and investment. However, there are the eternal issues we have to deal with, such as the legal uncertainty, the unpredictability of the economic environment, corruption, unpaid bills and the slow and sometimes unpredictable rulings of the judiciary. These are the classic matters, which are improving each year, but we still have this ball-and-chain tied to our leg, which prevents us from winning the investment race in CEE.
Ultimately the investment decision is largely based on an objective factor, the statistical picture of the country, and on subjective criteria related to perception (e.n. of investors).
What are German investors' concerns regarding the judiciary?
The legal system is very slow and it's very hard to recover your receivables. Unfortunately, in the past few months we have gained a reputation as a bad debtor, including the state and companies that delay payment of receivables. This is really unpleasant, because a serious company always meets its obligations. In dealings with German companies especially, it's a grave mistake to break promises. Unfortunately, the state and local authorities have long payment delays to German companies.
Regarding the courts, I don't necessarily refer to the rulings in trials involving German companies, but to the duration of the lawsuits, the procedures and delays, of a whole legal system that is not working to the benefit of economy.
How much does the state owe German companies in unpaid bills?
In May 2013, German companies were owed EUR 94 million in receivables from the state. However, given the experience of the past few years, the government has reacted quickly in the recent period and specifically analyzed some receivables. This may also be due to PM Victor Ponta's recent visit to Germany.
Have German companies made recommendations as to how to fix the local issues that hamper investments?
Romania was very attractive at one time for its cheap labor force, making every manufacturing business profitable, because of savings in labor costs. The situation has changed a little and today it's not enough to come to Romania because of the cheap labor market, because the labor costs in other countries are lower than in Romania. We have to look towards the employees' performance, efficiency and training to generate labor productivity closer to the German level. Then we will once again become interesting but with another level of wages, close to the EU average, and I think this should be our goal.
How can companies cope with the liberalization of the EU labor market for Romanians in 2014?
There will certainly be a fluctuation in migration (e.n. workers moving abroad) and you can't stop it. The same happens in Germany, where professionals leave for Britain and the US. This isn't something that should preoccupy us. It's an artificial discussion. Germans are afraid that Romanians will flock to their country, while we are afraid of a brain drain. The issue is how you generate quality of life in Romania, make people stay, make them feel good in their country so they don't consider leaving.
With Romania planning to draw up new PPP legislation, will German investors be confident enough to build on it?
I don't think the issue is related to legislation, because a public-private partnership may well be carried out under the public procurement law or the concession of public projects law. The issue is that whenever we talk about an association with the state or the involvement of private capital in a state project, usually there are two extremes: one in which the state puts in everything and the private party (e.n. company) takes everything and the other where the state doesn't contribute anything and wants to take everything.
There is no experience or routine of a fruitful and efficient collaboration between public and private bodies. (e.n. where such projects are set up); there is constant suspicion, inspections, and it's not due to the legislation but to a passive bureaucratic system which refuses to make decisions or take risks.
Have we lost significant investments due to this bureaucracy?
You can carry out any type of project through a public-private partnership. In Romania, projects have been put forward which in my opinion are not the most representative or urgent, such as the Bucharest-Danube channel or the Siret-Baragan irrigation channel. These weren't projects (e.n. fit projects) for German investors.
How much have German companies invested in Romania?
In 2011, there was close to EUR 7 billion of German investments in Romania and the trend should remain the same this year.
In which other sectors do German companies aim to extend their business?
We have had great effervescence with renewable energy as there have been a lot of investments. Germany is a country that produces almost everything and has advanced competency in many fields. Lately, we have had investments in renewable energy, automotive design and manufacturing, IT, and in modern retail where Germany has an extensive footprint.
Has the Euro zone crisis impeded German FDI inflows to Romania?
The Euro zone has influenced Germany's perception of the instability of certain areas of Europe. We have been somewhat caught up in this image of Balkan insecurity which was spread across the region by Greece. For somebody staying in Munich or Stuttgart who has to make an investment decision, it certainly wasn't a good moment to seek investments in South-East Europe. We don't have a very good reputation (e.n. the region) and somehow the Euro zone crisis put the brakes on investments in this region, which have been directed towards markets deemed secure or with high growth rates.
What is the level of trade between Germany and Romania?
Romanian exports to Germany amounted to EUR 8.4 billion in 2012, while imports from Germany reached EUR 9.5 billion, so bilateral trade is worth EUR 18 billion in a relative balance. We might see a slight increase in trade this year.