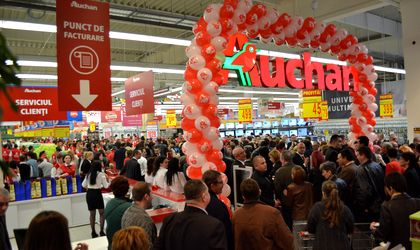 Romania's Competition Council has approved the takeover by Auchan of 12 hypermarkets and shopping galleries that the French retailer was previously renting for its outlets, according to Mediafax newswire. The transaction is estimated by local media reports to amount to EUR 260 million and involves the acquisition of the companies that previously owned these properties. These companies are Casa Design, BR Real Friends, Compact Motor, Art Bau International, Metro Imobiliare Investment and Rolast.
The 12 hypermarkets and shopping galleries are located in Bucharest, Timisoara, Cluj-Napoca, Baia Mare, Oradea, Satu Mare, Galati and Ploiesti.
Auchan presently operates 32 hypermarkets in Romania, the last unit having been opened in December last year. Out of this number, 20 hypermarkets have been acquired in 2013 from German Metro group and later rebranded. Following this transaction, the retailer increased its 2013 turnover to RON 4.6 billion (approximately EUR 1 billion), but it also posted a EUR 15 million loss.
The group's real estate division Immochan  is presently developing a EUR 60 million shopping center in Brasov – Coresi Shooping Resort  – the first phase of which will be opened this year.
In the transaction involving the takeover of the 12 hypermarkets and shopping centers Auchan was represented by Popovici Nitu & Asociatii.
Simona Bazavan