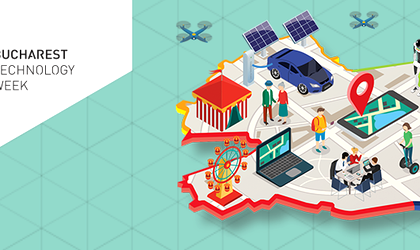 Bucharest joins the map of big cities from all over the world to have its own tech event. The Romanian capital will host, between the May 23-29, over 40 events on themes such as innovation, using tech in marketing, IT solutions for companies, developers and start-ups.
Over 10,000 people are expected to attend the events organized under the aegis of the Bucharest Technology Week.
The event will include four main thematic business conferences, scheduled to take place at Bucharest's Athénée Palace Hilton, but also an exhibition and 30 partner events.
The thematic conferences are Innovation Summit, Brands + Tech Summit, Enterprise-IT Summit and Java Dev Summit, plus a stands exhibition with innovative products and tech solutions for businesses. The conferences will reunite key specialists like Geoff McGrath – chief innovation officer McLaren Applied Technologies, Javier Sanchez Lamelas – founder & CEO Marketing Consulting Group, Ian Forrester – senior producer BBC R&D Department, Juergen Hoeller – spring framework lead Pivotal.
An three-day exhibition will take place in the George Enescu square near the Romanian Atheneum. It will feature tech innovations, including hybrid and electric cars, smart homes and smart cities solutions, eHealth apps, VR, robots, drones and gadgets. The participation to the exhibition is free, with prior registration on the event's website.
Moreover, the tech week reunites 30 partner events taking place all over the city, including a robotics workshop for children, a 3D printing workshop and an exhibition of art through tech.
Bucharest Technology Week is developed by Universum Events, the organizer of Internet & Mobile World, event that reaches its fifth edition in 2016 and is scheduled to take place in Bucharest on October 5-6.
More at www.techweek.ro
Romanita Oprea