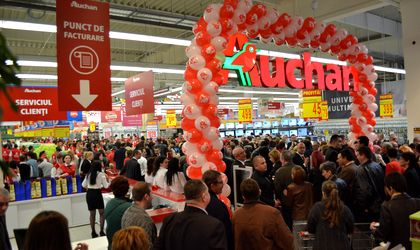 The investments allocated by French retailer Auchan this year to hypermarkets in Drumul Taberei in Bucharest and at the Coresi shopping center in Brasov, as well as money spent on the rebranding of the last Real hypermarkets will amount to of EUR 100 million by year end, said Patrick Espasa, general director of Auchan Romania, last week.
Works on Auchan Drumul Taberei, which will feature a hypermarket and office space, are in an advanced stage and the hypermarket could be completed in December, ahead of the initial deadline which was the first half of 2015, added Espasa. Works on the EUR 60 million Coresi Brasov, the shopping center being developed by Immochan, the real estate division of Auchan, in Brasov are also underway and the hypermarket will be completed next year.
The French retailer announced last week that it had completed the rebranding of the remaining Real hypermarkets as Auchan outlets. The rebranding cost over EUR 40 million and was completed in about six months. The company took over 20 local Real hypermarkets in September last year following a regional deal with Metro Group.
It thereby increased its local network to 31 hypermarkets and more than doubled its turnover last year to RON 4.6 billion (approximately EUR 1 billion). The firm now hopes to reach breakeven over the next couple of years, after reporting a EUR 15 million loss last year, according to company representatives.
Auchan employs about 11,000 people in Romania and has entirely taken over the personnel of the former Real Romania. The company has also employed an additional 1,000 people and has said that another 1,000 jobs will be created following the opening of the Drumul Taberei and Coresi stores.
There is still room for expansion in Romania said Espasa, adding that the retailer was also considering the launch of an online store, albeit only in 2016.
In addition to the 31 hypermarkets, Auchan Romania also operates three logistics platforms in Romania and reported some 70.5 million customers last year.
Simona Bazavan