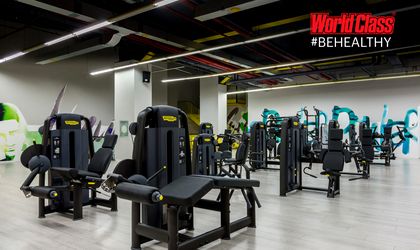 World Class announces a strategic expansion to a new major city with World Class Afi Brasov. Starting in 2020, the largest health & fitness network in Romania will cover 7 metropolitan areas: Bucharest, Iasi, Timisoara, Cluj, Brasov, Constanta and Ploiesti, with over 40 health & fitness centers, 85,000 members and a team of more than 700 health and fitness experts.
"Our presence in Brasov, voted in 2018 as the best Romanian city to live in, marks an important step in our regional expansion. We will continue to grow, consolidate and develop the World Class network. With every new World Class club that we open we are expanding our #BeHealthy movement to become more accessible to more Romanians. We are expanding our inspiration for better living as well as our opportunities to provide people from all over the country the chance to live healthier lives through sports, health and fitness. We are in discussions with more projects to continue our network expansion in Brasov," said Kent Orrgren, CEO World Class.
The Romanian health & fitness market is growing and it is estimated to continue to grow by an average of 10 percent annually until 2025, which is one of the fastest average growth rates in Europe.
World Class's turnover increased by 16 percent versus last year. As part of its strategic consolidation and development plans, World Class has analysed the health & fitness market in Brasov and found great growth potential here. Based on market insight and knowledge, the network has identified the right location and timing for entering Brasov with state-of-the-art facilities, programs and offers in order to grow the #BeHealthy Movement for More Movement.
World Class takes this new strategic step to consolidate its presence in Romania's main urban areas, close to residential and office building parks that concentrate a large amount of population. World Class has seen the huge potential of the growing health & fitness market in Brasov and identified premium locations to further open new World Class clubs in this city. With the AFI project, World Class will enter a prime location and offer a state-of-the art health & fitness experience for the Brasov market.
The new health & fitness club that will open in 2020 will be located in the largest shopping and entertainment center in Brasov and in the region, AFI Brasov, a mall that will house 200 shops along with large entertainment and leisure facilities, at the heart of the city center. World Class AFI Brasov will cover a generous area of 1,700 square meters and feature premium facilities, aerobics and cycling studios, premium equipment and accessories provided by Technogym. A team of health and fitness specialists will offer members a variety of fitness classes based on original World Class concepts as well as popular programs created by the world's largest fitness provider, Les Mills.
World Class Brasov will be included in the Bronze membership category and will be the 39th club in the World Class network.