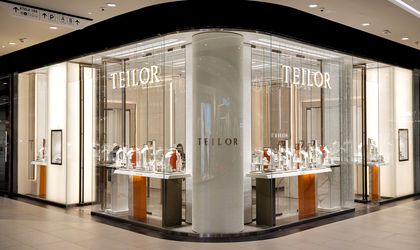 TEILOR, the chain of luxury jewelry stores with presence across the CEE region, continues its international expansion by opening its fourth location in Hungary.
The new unit has a total area of 150 sqm, making it the largest TEILOR store to date, and is located in Budapest, as the brand's other three stores in the country.
"Strengthening the TEILOR brand in international markets is part of our mission to become a globally known luxury brand. Our current strategy is to focus on the CEE region, which is the first geographical area where we want TEILOR to become the customer's choice for precious and semi-precious stones jewelry. Expanding TEILOR into the Hungarian market has been a natural process, with the pieces, store design, and experience we offer being truly appreciated by our customers there. We will continue to focus on strengthening TEILOR's presence in Hungary, with all that implies: a product portfolio and a consumer experience tailored to local needs, but aligned with global trends," stated Willy Dicu, CEO of TEILOR.
The new TEILOR store is located in the Westend Shopping Center, the shopping center with the highest traffic in Budapest and one of the top malls in Central and Eastern Europe. Currently, the number of TEILOR employees in Hungary is 16 persons, of which four employees comprise the staff of the newly opened store.
The Westend Shopping Center store features products from the brand's emblematic collections, including a pair of diamond earrings worth 51,000 euros and an 18K gold necklace with a diamond pendant worth over 16,000 euros.
Considering the external economic, political, and social context, and the brand positioning needs, TEILOR is focusing on consolidating its presence in the existing markets: Romania, Poland, Hungary, Bulgaria, and the Czech Republic. Starting from 2025, TEILOR will explore expanding into Germany, Austria, Slovakia, and other markets, aiming to open new stores in premium locations.