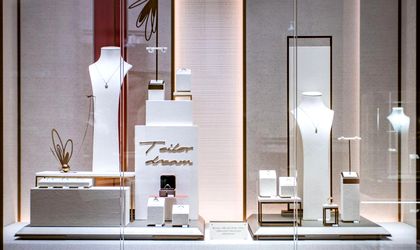 TEILOR, the chain of luxury jewelry stores with presence across the CEE region, continues its international expansion by opening a new store in Poznan, Poland. Currently, the TEILOR network in Poland comprises five stores, two of which opened this year.
"We are pleased to open a new store in Poland, the most important foreign market for TEILOR, which confirms our trust in the network's development there. The Polish market is mature, which makes it extremely competitive. The development of the TEILOR network in Central and Eastern Europe is based on the fact that jewelry preferences are generally universal, so international trends are also adopted by customers in the markets where we are present. Feedback from our international colleagues highlights that the jewelry design, as well as the shopping experience offered to our customers, are important differentiators of the TEILOR brand in every market where we are present," stated Willy Dicu, CEO of TEILOR.
The new TEILOR store is located in the Stary Browar shopping center in Poznan and covers an area of approximately 60 sqm, being managed by four employees. TEILOR collections include 14K and 18K yellow, rose, and white gold jewelry, with precious or semi-precious stones. The portfolio also includes engagement rings and diamond jewelry certified by GIA (Gemological Institute of America) and De Beers Institute of Diamonds.
This is the second TEILOR store opened in Poznan, having previously inaugurated one in Posnania Mall. The network in Poland also includes three stores in Warsaw, bringing the total number of employees in Poland to 28. TEILOR will continue its expansion in Poland by opening another store in the Wroclavia shopping center in Wroclaw by the end of the year.
In 2022, TEILOR opened seven stores, three in Romania – in Bucharest, Iasi, and Piatra Neamt – two in Poland, one in the Czech Republic and one in Hungary. By the end of this year, the company aims to open two more new stores, expanding the TEILOR network to 65 stores, including 51 locations in Romania and 14 international stores in Poland, Hungary, Bulgaria, and the Czech Republic. In addition to the brick-and-mortar stores, TEILOR currently operates five online platforms – teilor.com, teilor.ro, teilor.hu, teilor.bg and teilor.pl.
Considering the external economic, political, and social context, as well as the market specifics and brand positioning needs, TEILOR will focus between 2022 and 2024 on consolidating its presence in the existing markets through over 60 stores in Romania, Poland, Hungary, Bulgaria, and the Czech Republic. Starting from 2025, TEILOR will explore expanding into Germany, Austria, Slovakia, and other markets, aiming to open between four and six new stores per year in premium locations.