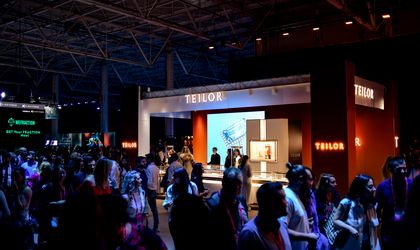 TEILOR, the luxury jewellery retail chain present in the Central and Eastern European region, celebrates its 25th anniversary at BRAND MINDS 2023.
TEILOR began its story 25 years ago on the street with the same name. Today, it is present in five countries: Romania, Bulgaria, Poland, Hungary and the Czech Republic. For its 25th anniversary, TEILOR, partner at BRAND MINDS, has stepped into a new territory: the Metaverse, through a collaboration with Xclusiverse. At the same time, the brand launched the TEILOR 25 video campaign in front of an audience of over 6,000 people. The presence was also marked by a booth where visitors admired and tried on 25 iconic pieces of jewellery from the brand's collections, a natural association with this milestone.
"In the luxury industry, 25 years mean only the beginning. TEILOR is a brand with values inspired by Romanian roots, started from a dream that led us here. Here we are, 25 years later, brave and determined, ready to cross new boundaries and limits.", says Florin Enache, Founder of TEILOR.
The concept of the video launched at BRAND MINDS is a reverence to youth. The shots captured in the international campaigns of the last few years, the presence at the Cannes Film Festival and also at the Venice Film Festival, all reflect the ambition and courage of the brand. The scenes with Catrinel Marlon, the brand's international ambassador, were complemented by spectacular jewellery, which was also on display at the BRAND MINDS booth.
"We offered a reinterpretation of these 25 years. For the brand and the team, they translate into ambition, vitality, always a rebirth. We keep our young spirit, with experience in the luxury industry, with energy for projects and evolution. This year, at BRAND MINDS, we turned our attention to our audience with a thought for the future:  "Keep young", a claim full of excitement.", says Iulia Novac, Head of Brand & Communications @TEILOR.
The 25th anniversary brings TEILOR into the Metaverse by opening a store in the virtual universe created through a partnership with Xclusiverse. A space where everyone who creates an account can explore and try on TEILOR jewellery, each piece being connected to the TEILOR website. The BRAND MINDS experience was complemented by a competition, with the winner receiving a Tennis diamond bracelet after registering in Metaverse.
Evolution is part of the brand's DNA, a fact proved by every step TEILOR has taken. From opening its first store, to entering four international markets and creating impressive jewellery collections – each step has strengthened its position. With the 25th anniversary, the brand is also continuing its expansion plans, and by 2024, TEILOR will focus on strengthening its presence on existing markets.
Website Xclusiverse: https://xclusiverse.com/explore-our-metaverse
Video TEILOR 25: https://www.youtube.com/watch?v=ik6Wi6OzaOo