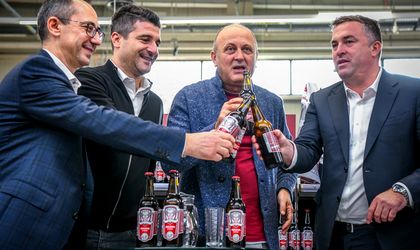 Starting this week, dozens of official products of the Rapid Bucharest football club are available in the Auchan Crângași hypermarket, in a specially dedicated area, as a result of a collaboration between FC Rapid and Auchan Romania. Moreover, on this occasion, Giuleșteana beer, the football club's own brand of beer and the official beer of the rapid players, is also launched. Thus, by the presence of a football club's shop within a hypermarket chain, the two organizations mark a first on a national level and aim to serve together even better the community in which they operate.
The FC Rapid shop in Auchan Crângași, located near the Giulești stadium, will include a wide range of articles bearing the club's insignia, from agenda, bracelets, mugs, pennants, flags, badges, glasses, umbrellas, to personalized t-shirts. The prices of the items start from 5 lei and reach up to 260 lei, and until December 31, loyal customers benefit from 10% money back as a bonus on the MyCLUB Auchan loyalty card. The opening of the shop is a pilot project, meant to evolve.
"First of all, this project represents an additional advantage for Rapid fans who have been shopping in Auchan Crângași for over 10 years. From now on, here they will also have a personalized experience, through a shop 100% dedicated to their favorite team, which we want to further develop. We are happy to bring added value to the local community this way", said Tiberiu Dănetiu, Auchan Retail Romania Marketing Director.
Rapid supporters' beer, available at Auchan Crângași
With the launch of this partnership, Rapid Bucharest football club also launches its own brand of beer, Giuleșteana, which is currently sold in the Auchan Crângași store and will soon be available in the Auchan hypermarkets in Bucharest.
Produced by Nemțeana, one of the first local producers of craft beer, Giuleșteana is an unfiltered blonde beer with a dense bitter taste, obtained from Romanian ingredients, malt and premium hops, thus supporting the retailer's mission to support and promote local producers.
"The partnership with Auchan Romania is a natural step in the commercial strategy of the Rapid club. We found in Auchan a partner whose vision and ambitions are similar to those of Rapid. I believe that together we'll do beautiful things", stated Daniel Niculae, FC Rapid 1923 President.