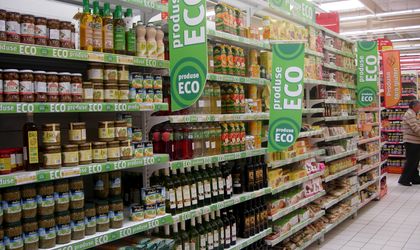 The niche segment of organic products has been on an upward trend for several years now, bringing healthy profits for local organic farmers and producers. The Romanian organic food market is estimated to have reached up to EUR 70 million last year and could well surge by another 30 percent in 2012 as more health-conscious consumers choose to go green. But the economic crisis has also taken its toll.
Simona Bazavan
While five years ago the shopper could count on the fingers of one hand the number of specialized stores selling independently certified organic products on the local market, now there are considerably more places to choose from. Be it organic food, cosmetics or even clothing, the concept itself has come a long way, gaining popularity among Romanian consumers.
There are no official data on how much Romanians spend on organic products, but everyone agrees the market has been on an upward trend in the past few years. "It is very hard to give actual figures, but judging by the number of new specialized stores selling organic products, the increase in large retailers' ranges and also the feedback we receive from our members, I believe that the market grew by more than 30 percent last year," Marian Cioceanu, president of the Bio Romania Association, which is dedicated to organic farming, told BR. Cioceanu says that for several product categories such as sunflower oil, honey, eggs, pastry products and wine, consumption has surged and even doubled in some cases. "Looking at eggs, for example, even though new farms have been set up, the offer doesn't come close to meeting the demand," he explained.
He estimates that overall, local consumers spent between EUR 60 and 70 million on organic food products in 2011. While a 30 percent growth rate is impressive, Romania is still light years behind market leaders such as Germany, where the organic industry is estimated to have generated a whopping EUR 6.6 billion last year.
Coming back to the local market, 2012 could bring a similar 30 percent growth rate, if not even more, thinks Cioceanu, both because local consumers are becoming increasingly aware of the benefits of these products for their health and the environment, and also because the choice is following suit. There are more than 10,000 organic farmers in Romania culvivating about 300,000 hectares of land and the number of processors has also been on the rise. The range of locally made organic products has considerably diversified and increased in the past couple of years, but, even so, Romania still exports 80 percent of its organic products – the bulk of which are cereals and other raw materials – only to import the largest share of processed products sold locally.
Cioceanu says changing this depends on Romania's capacity to negotiate and influence the future Common Agricultural Policy for 2014-2020. Better financial support for organic farmers as well as for companies manufacturing organic products would provide the necessary incentives to attract investors. A higher domestic production and fewer imports could also mean lower prices for organic products, which are estimated to be between 30 and 200 percent more expensive than their regular counterparts. The difference in price stems from the fact that at least 95 percent of the ingredients of a certified organic product must come from organic farming, meaning that they are free from synthetic insecticides, pesticides and fertilizers and that the final product does not contain artificial additives, flavorings, colorings or preservatives.
But while everyone seems to agree that Romanians' interest in organic products is on the rise, the decrease in purchasing power has taken its toll. "The outlook is gloomy, I think. I know from other players on the organic market too, that the situation is rather bad. It is only an impression that organic is riding a wave – there are more importers and retailers than consumers," Ileana Muntean, co-owner of Pukka Food, one the most popular vendors of organic products in Bucharest, told BR.
She opened her store almost four years ago together with a friend, and has recently relocated it to Amzei Square, in search of better business.
"Sales dropped significantly in 2011 compared to the previous year. I don't know what to say about 2012. The times are so troubled that in December – one of the best performing months – sales were at summer level," she added.
Nevertheless, more organic outlets have been opened in the past few years – not to mention the frenzy of online stores. One chain of local shops selling a wide range of natural products including organic ones is Plafar. At present there are 26 Plafar stores, 12 of which are in Bucharest, but over the next couple of months about six more will be opened, Ioana Mihut, marketing director at Plafar, told BR.
Plafar Retail, the company that owns the stores, is controlled by Portuguese investor Alain Bonte, who is also the main shareholder of the Centrofarm network of pharmacies. Back in 2007, Centrofarm paid EUR 1 million to acquire the Plafar retail trademark from the National Plafar Company, and with it the right to open its own shops under this brand.
"Consumers' interest in organic products has definitely increased and Romanians are much more informed about them. We are glad to see how carefully they read product labels and that we are receiving more and more questions from them," said Mihut, adding that the best sold organic products in the Plafar network are food supplements, cosmetics and food. Overall, Plafar Retail expects its turnover to increase by about 60 percent this year to EUR 8 million.
Large retailers want a piece of the organic pie
Organic products have been given more room on the shelves of large retail networks, as they too agree that organic is good for business.
"Interest in organic products is part of a recent consumer trend to turn to natural products, organic or diet," Simona Sahin, assortment manager in Cora's marketing department, told BR. The retailer's organic products sales went up 20 percent in 2011 against the previous year, she added. "The best sold organic products are from the fresh products category – such as dairy and eggs – but at the same time baby food and cosmetics have proved to be an opportunity in this segment," she said. Cora sells more than 400 organic products, from food and cosmetics to a recently launched line of organic clothing. Its portfolio also includes two private labels for organic merchandise – Nature Bio and Influx.
Carrefour Romania, too, has posted sales increases for organic products. "Sales have gone up significantly for categories such as dairy, eggs, bread and others," Andreea Mihai, marketing director at Carrefour Romania, told BR. The retailer is constantly looking at expanding its organic range, also offering private label products.