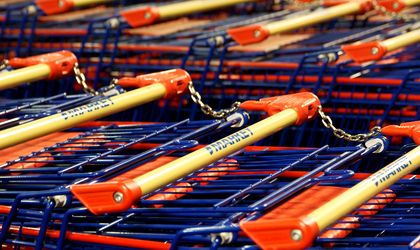 Dinu Patriciu's Mic.ro business officially became insolvent, Profi repositioned its stores, Metro Cash & Carry launched a franchise for independent retailers and other players are forming ambitious plans for expansion – these are just some of the shifts on the local FMCG retail market since the beginning of the year. BR takes at look at what has changed and what more the big firms have in store.
 Simona Bazavan
While 2011 was a year of consolidation for the local FMCG retail market with investments in expansion keeping a similar pace to the previous year, so far 2012 seems to herald more ambitious plans. Mega Image, Lidl, Kaufland and Profi all got off to a dynamic start, each of them opening new units and hinting at more to come. Other players like Carrefour Romania and most recently Metro Cash & Carry are expanding their local footprint through franchising programs.
One thing is clear however – the difference will be made by those retailers with the financial capacity to invest in expanding, shaping the market and thus preparing for the growth to come, say commentators.
But is there room for more supermarkets and hypermarkets in Romania given the consumption decrease in the past couple of years and less than promising outlook for 2012? Compared to other European countries Romania continues to have a low modern retail stock density at only 45 percent of the EU average, and the figure is still considerably lower than that in countries like the Czech Republic, Poland and Hungary.
As for consumption, although the record level reported by the local FMCG retail market in 2008 of EUR 21 billion will not be repeated any time soon, retailers are confident that they will see growth this year. Pawel Musial, general manager of Profi Rom Food, estimates that the market will grow to EUR 17.1 billion in 2012, up EUR 800 million against 2011, and that the upward trend will continue to an estimated EUR 19.2 billion for 2015.
As in the past couple of years, supermarkets and discounters are proving to be the main choice of formats for expansion, especially in towns with fewer than 100,000 inhabitants – the new battleground for FMCG retailers regardless of the format.
Making an early start
Mega Image has opened nine new stores since the beginning of the year and another eight will be added this March, while in 2011 it increased its network by 33 new outlets. Should the retailer keep the same expansion pace throughout 2012, it could open more than 70 new units this year.
Lidl is another player with big ambitions for 2012. The discounter plans to reach 200 stores by yearend, investing up to EUR 70 million. Lidl opened 107 branches last June after having invested in rebranding the local Plus Discount supermarkets as Lidl stores. The change took place more than a year after it bought the local low-cost chain Plus from German owner Tengelmann in February 2010. Throughout 2011, 22 new Lidl stores were built.
The discounter is part of German Lidl & Schwartz Group, which also runs the Kaufland discount hypermarkets. The player now operates the largest hypermarket chain in Romania having maintained a steady expansion pace over the last three years. Four new Kaufland stores have been opened so far in 2012 whereas last year 13 units were added to the network.
The first two months of 2012 were busy for Profi too. The retailer repositioned its 107 outlets on the local market from discounters to proximity stores and announced plans to open up to 30 new units 2012.Last month the company bought Al Comsib, a network of stores in Sibiu, thus adding six more outlets to its network.
One retailer that has plans to open more units this year than it did last year is Billa. The German firm hopes to add at least ten more stores to its local network this year.
At the end of 2011 the company was operating 61 supermarkets countrywide, six of which were opened last year. Billa is part of German Rewe Group which also runs locally the Penny and Penny XXL discount stores.
Carrefour too focused on adding more supermarkets to its network last year, opening 13 new outlets. Most of this year's expansion will continue to be supermarkets, said the company. Carrefour is also expected to open at least a hypermarket this year.
Another French retailer present in Romania, Cora, has announced that it will open three hypermarkets this year in Slobozia, Bacau and Bucharest. Meanwhile, rival Auchan will open a hypermarket in Iasi, while Real has signed with AFI Europe to open a hypermarket in the future AFI Palace B. Noi shopping mall, although the delivery date has not been announced.
Metro Cash & Carry, a company that can be considered the pioneer of modern retail in Romania after opening its first cash & carry store back in 1996, launched last week a franchise for proximity stores under the La Doi Pasi brand (Two Step Away). Metro representatives announced that 200 independent retailers have joined the program so far and 80 such stores are already functional. Retailers receive training and consultancy services from Metro Cash & Carry and are able to maintain their financial and operational independence.
Earlier this year the company launched the first online store operated by a local cash & carry retailer under the Metro Office Direct name (www.metro.ro/direct). The store targets companies and will sell a total of about 4,500 office stationery products and various electronic appliances. Overall, Metro Cash & Carry operates 32 stores in 24 Romanian cities.
Not all players kicked off 2012 in such aggressive mode. Dinu Patriciu's retail investments faced a bumpy start to the year. Mic.ro Retail, the company that owns the Mic.ro proximity stores, filed for insolvency last month. Its stores had been facing difficulties since last year due to outstanding debts to suppliers and banks. The announcement came only two weeks after Minimax Discount, a discount chain bought by the businessman in 2010, also filed for insolvency.
Mic.ro stores were launched in October 2010 to much fanfare and big ambitions for the future – 1,000 fixed shops and 2,000 mobile units by the end of 2011. Things, however, did not move as swiftly as the businessman had initially hoped, and the chain collapsed in a stinging failure. In September 2011 there were about 830 Mic.ro stores and 58 Macro (former Minimax stores) and miniMax outlets, many of which had empty shelves or were simply closed after the rent was not paid.
Ironically enough, when he launched the first Mic.ro store, Patriciu declared boldly, "If I have a wish, it is that the commerce imported piecemeal from the West should die." In the end, retail proved to be a harder business than the businessman had anticipated.