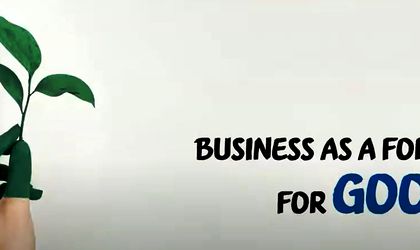 Nestlé, one of the most important players in the global food and beverage industry, announces short and medium-term local plans for involvement in the development of Romanian communities. In a difficult context, which generates a major impact on communities, the company remains not only a reliable partner of communities, a solid employer and business partner, but also an important voice commited to create, support and implement solutions to prepare the economies for the post-crisis world.
According to a report by the United Nations Department of Economic and Social Affairs entitled Everyone Included: Social Impact of COVID-19, the COVID-19 outbreak affects all segments of the population and puts major pressure on members of social groups in the most vulnerable situations. In this context, there is a need for a change in the dynamics of social involvement and a new way of relating to the new reality, outlined around the prioritization of solidarity with communities, employees and partners.
"Solidarity and social responsibility are essential in times of crisis, and they are two values dictating every business decision we make. This crisis is far from over, and right now it is important to keep supporting communities and continue to maintain safety measures, both at company level and individually,"said Leszek Wacirz, Country Manager Nestlé Romania.
Ever since the beginning of the pandemic, Nestlé has mobilized resources from around the world to contribute, through donations in products and money, to supporting medical institutions, food banks and other similar organizations. Through an international partnership with the International Federation of Red Cross and Red Crescent Societies, a global budget of CHF 10 million has been allocated to support communities affected by the pandemic, globally.
Locally, the allocated funds represent the equivalent of RON 10 million and were meant to offer support to communities, partners, medical institutions and employees during March – June, and this includes the distribution of approx. 3.5 million portions of energy distributed to medical staff, homeless people and families in need, as well as for the purchase of 100,000 protective masks for the medical system.
In the next period, Nestlé will support its partners in affected categories in the restart of their business, by offering free products and allocating special funds, while providing additional support to employees meant to ensure their health, safety and well-being. Special attention is paid to partners in the out-of-home sector, severely affected on a national level. The out-of-home division recorded a double-digit decline in the first quarter of 2020, generated by the closing of the HORECA sector and the significant impact on consumption outside the home: "Despite the difficulties encountered in this category, it is a priority for us to support our partners in restarting their business, once the safety measures are relaxed. As part of the Always Open For You initiative, we managed to provide them with an additional capital of almost 4 million lei through which they can ensure the continuity of their businesses in this critical period", said Ovidiu Tunaru, Business Executive Officer Nestlé Professional.
New investments and initiatives: Health and nutrition, support for new generations, sustainability
The second half of 2020 is dedicated to new investments and initiatives for sustainable development, for children's nutritional education and for building career opportunities for young people in Romania. The mission of improving the quality of life of consumers and contributing to a better future for all generations remains a priority for Nestlé. Globally, the company's social responsibility actions touch on topics such as nutrition for individuals and families, environmental sustainability and professional development for young people, and are brought together in three dedicated programs – Nestlé for Healthier Kids, Nestlé Needs Youth, Nestlé for a Waste Free World.
"Ever since the begining, our mission has been to offer people the means for a better life, in all its aspects. We have all the necessary tools to fully honor this commitment – through our nutrition products, dedicated CSR initiatives and, of course, through the power of example, we aim to help the new generations make better, healthier choices for their future and the future of the environment", said Neli Angelova, Nestle South East Market.
Nestlé for Healthier Kids: For a healthy and active lifestyle for the new generations
In Romania, in 2019, over 60,000 children were involved in "Nestlé for Healthier Kids" activities, developed together with local partners. By the end of 2020, Nestlé aims to help 70,000 children make healthy choices and adopt an active and balanced lifestyle through educational materials and dedicated activities, through Și eu traiesc sănătos!- SETS and Traista cu Sănătate programs. At the same time, in April, Nestlé launched the NutriPorția project, which provides parents with the tools they need to educate their children into forming a healthy lifestyle, based on balanced nutrition and daily physical activity.
Nestlé Needs YOUth: For a life with new opportunities
As part of the global "Nestlé needs YOUth" initiative, from 2014-2020, together with our partners from "Alliance for YOUth", over 18,000 young people were involved in dedicated activities, resulting in 15,000 jobs. As part of this program, at the end of June, Nestlé will expand the Summer's Cool project, this time in a virtual format, in which 6 Romanian students will have the opportunity to learn professional skills in various fields, through virtual workshops held by experienced colleagues from the Nestlé team and beyond, along with colleagues from Croatia, Serbia, Bulgaria. At the same time, in the second part of the year, the company will launch in Romania the Young Culinary Talent program (YOCUTA), a global training program for the culinary industry, as well as a new dedicated entrepreneurship education program for young people, together with Junior Achievement.
Nestlé for a Waste Free World: For a cleaner life
The following months will also bring several environmental awareness campaigns, aligned with the company's goal of having a zero impact on the environment, by 2030. In this regard, Nestlé has launched the Less Waste More Love campaign, as part of its global efforts for protecting the environment. The campaign will include dedicated actions meant to protect and use water conscientiously, and to raise awareness on the importance of selective collection & packaging recycling and reducing gas emissions. In terms of post-crisis economic recovery and transformation plans, Nestlé has joined the global Race to Zero and Green Recovery initiatives to support the development of a new European economic model, built around green principles, which can facilitate the transition to a more resilient, inclusive, climate-neutral economy.