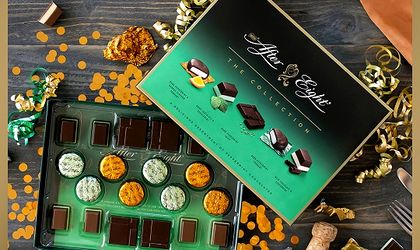 Nestlé, the world's largest food and beverage company, launches After Eight chocolate pralines in a new collectible box.
After Eight The Collection box of pralines – a selection of premium chocolate, comprising five delicious assortments:
Dark chocolate with mint and fondant with orange flavor – fondant with smooth orange and mint flavor, covered in a rich layer of dark chocolate.
Dark chocolate and mint – a praline in layers of rich dark chocolate and soft mint interior.
Dark Peppermint Crisp – rich dark chocolate enriched with crispy sugar pearls.
Dark chocolate fondant with mint – smooth mint fondant topped with rich dark chocolate.
Mint truffles with milk – a praline with soft mint interior and milk chocolate.
Packed in a gift box, After Eight The Collection can be a great gift for holidays, parties, for dinner, or to delight family and friends at any time. The After Eight The Collection praline box has been launched in stores nationwide since September.
Andreea State, Group Brand Manager Nestlé Confectionery, says: " After Eight mint chocolate pralines bring a fresh perspective to the moments with friends or family. With an unconventional taste it invigorates the senses and inspires the celebration of special holiday moments. We are pleased to be able to bring the new after eight the collection praline box to market this year. The consumer reaction to the new After Eight product concept has been incredible, so we are confident that it will be a great success for mint chocolate lovers everywhere! With five delicious assortments, dark chocolate and milk, there is something for all tastes in this collection of pralines".
In Romania, almost 50% of Romanian consumers aged 14-74 enjoy pralines at least 1 time a year, and 11% of them weekly. The After Eight brand was launched in Romania in 2010 and in recent years there has been an increase in the interest of Romanian consumers for this type of mint chocolate, which is appreciated by 39% of men and 61% of women.
Launched in 1962 in the UK, After Eight is manufactured with 100% certified sustainable cocoa, sourced from the Nestlé Cocoa Plan in collaboration with the Rainforest Alliance. After Eight uses 100% natural peppermint oil and does not contain artificial dyes, flavors and preservatives. After Eight is now sold in countries around the world and is especially popular in France, Germany and Spain. After Eight is recognized as the leading mint chocolate brand in the UK, known for its refined taste and premium quality. Thin tablets of delicious mint chocolate are known for bringing families and friends together during key occasions such as Christmas.