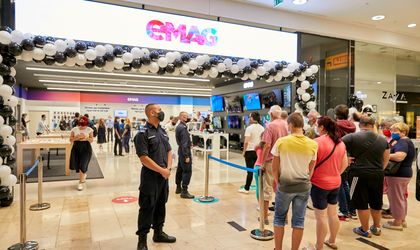 eMAG continues its international expansion by diversifying its sales channels and opens the first showroom in Bulgaria, Sofia, after the company opened its first showroom outside Romania in Hungary three months ago. The company plans to open three more showrooms in the first part of next year.
Located in Serdika Center, one of the largest shopping centers in the Bulgarian capital, the new showroom allows eMAG.bg to expand the services offered to customers. The Bulgarian consumers have now the possibility to shop directly from the showroom, may order online with free delivery and pick-up on the same day in the showroom, or may benefit from instant free return.
The growing interest of the Romanian sellers to take their products to other markets is also key to the company's international expansion: in Bulgaria alone, there are currently over 400 Romanian merchants who are using the constantly expanding eMAG Marketplace platform due to the easiness and speed they can register on. eMAG facilitates the access of the Romanian sellers to other markets through content translation services, but also assistance in products listing.
Customers have access in the new showroom to the latest products in the electro-IT category, but also to an Apple shop which is hosted by the store, the first in Bulgaria. At the same time, the showroom benefits from trained consultants and authorized service providers. Currently, eMAG has 15 showrooms in Romania and three abroad.
"In Bulgaria, we are seeing a growth in online retail which has led us to investing in the development of new services meant to offer our customers a much better experience, while strengthening our good position in the local market", said Andrei Popescu, eMAG Bulgaria Country Manager.
eMAG has been present in Bulgaria since 2012 and counts 200 employees.