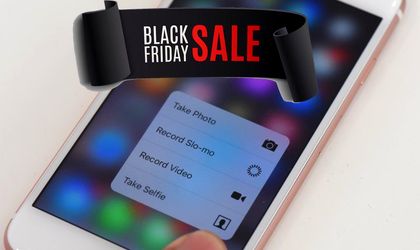 eMAG had record sales after the first 9 hours of the 2018 edition of Black Friday, with more than RON 355 million and over 930,000 products ordered. 35,000 customers have ordered online through eMAG for the first time. Last year's Black Friday sales were overtaken at 16:20 today. Promotions will be added until midnight.
More than 15 percent of Black Friday orders have been prepared for delivery from eMAG warehouses. The couriers will work on Saturdays and Sundays, so that as many deliveries as possible reach customers.
"Black Friday orders reached a record level within the first 9 hours of the event opening. We have an unprecedented interest that will lead us to an increase of almost 30 percent over last year and 10 percent above our target for this year. We estimate sales of over RON 440 million for the whole day," said Tudor Manea, eMAG general manager.
Donations for education
eMAG customers have donated constantly throughout the day and we estimate that by the end of the day the amount will reach RON 100,000. All of these donations go to education projects managed by the eMAG Foundation.
Black Friday's recordings at eMAG:
Average of the first hours: 77 products ordered per second.
The first million RON ordered in 12 seconds.
RON 10 million sale after 2 minutes and 5 seconds.
RON 100 million after 37 minutes.
eMAG Black Friday results at 4 pm:
Orders worth more than RON 355 million.
Over 930,000 ordered products.
Over 6,100,000 visits since the start of the event.
75 percent of traffic from mobile devices.
The share of card orders over 34 percent, rising from the average of 30 percent in 2017.
One in 11 orders has a baby product.
The most complex order has 26 products and includes TV, washing machine, vacuum cleaner, sports goods, blender, iron, microwave, chairs, mattress and more.
Most ordered brands on product categories:
TVs: Samsung
Refrigerators: Arctic
Washing machines: Beko
Phones: Samsung, Huawei
Quantity on the best-selling product range:
Household and home care products: 108,000 pieces.
Small household appliances (mixers, mixers, coffee makers and others): 83,000.
Personal care: 49,000.
Clothing and footwear: 42,000.
Televisions: 40,000.
Phones: 38,000.
Tires: 36,000.
Toys: 31,000.
New products ordered online:
122 cars.
3.9 KG of gold.
1,800 Nights accommodation.
410 event tickets.
275 Subscriptions to medical services and dental subscriptions, Queen Maria, Medicover, Just Smile.
159 Luxury Watches and Jewelry.