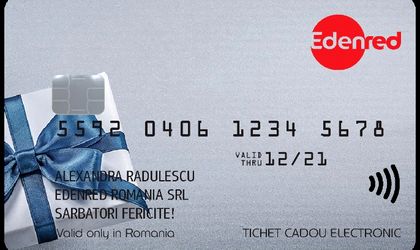 All the vouchers offered by companies as benefits to employees are, starting this year, regulated by law 165/2018, which among other things, states that all vouchers (meal, holiday, gift, nurseries and cultural) can be given digitally, through electronic cards.
Edenred Romania, the largest provider of benefit vouchers, has annonced that it will launch its first electronic gift vouchers by the end of the first quarter of 2019, already having a network of over 2,500 partner vendors for the electronic gift voucher. Electronic gift vouchers can also be used for online payments.
Gift vouchers are universally applicable, and the Edenred Partner Network includes all major hypermarket and supermarket chains as well as fashion and cosmetics brands, bookstores, jewelry, toys, IT & electronics, accessories, decorations, DIY, articles sports.
Edenred estimates that over 20 percent of client companies will make the transition to electronic gift vouchers in the first half of this year.
 "The emergence of the legal framework that allows us to issue gift vouchers and electronic support is a big step forward, eagerly awaited by both employers and employees. As for meal vouchers, where employees and companies have massively adopted cards instead of traditional paper vouchers, we estimate that even for gift vouchers we will see a clear preference for electronic support. Gift vouchers offer Romanians a much better affiliation to digital technologies and the benefits they bring to everyday life. We are more than ready for the transition to predominantly digital solutions for all our products," says Dana Sintejudean, general manager of Edenred Romania & Moldova.
Gift vouchers on paper will continue to circulate, with the same fiscal frame.
Gift vouchers offer major benefits for employees (who appreciate the speed and security of transactions) as well as for employers who simplify their administration and management procedures for benefits of this kind offered to employees. Users of the new Edenred gift voucher cards will have free access to the online platform and the MyEdenred mobile app, where they can permanently view the amounts available on the card, transaction history, the availability of the amounts deposited, may have cards locked in case of loss / theft or request PIN code reminders.
According to Edenred's analysis, gift vouchers are ranked 4th in the top of extrasalary benefits provided by companies in Romania.
Edenred estimates that 1 out of 3 companies who provide employees with meal vouchers supplement their compensation packages with gift vouchers offered on major holidays (Christmas and Easter, but also June 1 and March 8).
Specifically, this means that approximately 400,000 employees, or 8 percent of Romanian employees, received Edenred gift vouchers last year as extrasalarial benefit at work.
The new law no. 165/2018, which refers to the fiscal framework of all vouchers (collectively referred to as 'tickets'), provides that gift vouchers, whether they are printed on paper or electronic support, are exempt from income tax, up to a ceiling of RON 150 per beneficiary.
Companies can offer gift vouchers to employees and their minor children, Christmas, Easter and June 1, and March 8, only to employees.
Edenred is the leader in the vouchers and prepaid cards market for employees, both in Romania and internationally. In Romania, Edenred serves more than 35,000 customer companies and over 1 million users for table and gift cards, gift vouchers, holiday vouchers, social vouchers, and prepaid cards for business expenses.