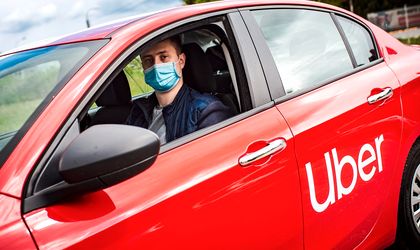 Starting this afternoon, Uber will be available in Ploiești, the first city in the Prahova region where the service is extending.
With Ploiești on the list of cities where the app is available, Uber has now reached 10 cities in Romania. The ridesharing company launched in Romania in 2015, in Bucharest, and then went through a rapid expansion to Cluj, Timișoara, Brașov and Iași. The company added Constanța last summer, and Craiova, Galați and Pitești in recent months. Uber is an app that connects passengers and drivers in over 69 countries worldwide, in more than 10.000 cities – now also in Ploiești.
The Uber partner drivers in Ploiești are fully licensed to safely drive passengers to their destinations. In Ploiești, Uber is launching with its most popular service, UberX, which offers access to affordable and safe trips with just a few minutes of waiting time.
Starting today and up to May 2nd, users in Ploiești can use the discount code HELLOPLOIESTI for 50% off on their first two UberX rides, for up to 7 lei discount per trip*.
"We are constantly making efforts to expand and make our technology available to as many Romanians as possible. The Prahova region is one of the areas we have been planning to come to for a while now, and we are excited to announce that people of Ploiești will benefit from safe and affordable rides with Uber. We know that people are always looking for alternative means of transportation and we are happy to provide Ploiești with our technology that connects riders and drivers in order for them to get to their destinations safely. We are in constant communication with local authorities and want to become their reliable long-term partner" – says Ana Maria Borlovan, Country Operations Manager Uber Romania.  
How Uber works
Download the Uber app on your phone and create an account
The app opens with a simple question: "Where to?"
Once you add a destination, the app shows you the price for the ride
Follow your trip progress and share your location and ETA with friends and family
Pay by cash or card
Rate your trip or leave other feedback 
Afterwards, you will receive an email receipt and you can also download your invoice
How to use the promo code
Go to the menu on the top of the Uber app
Select Wallet
Select Add promocode
Add HELLOPLOIESTI and you will be able to use it for your next two trips
Safety as one of the top priorities
Riders in Ploiești benefit from a series of safety features available in the Uber app, including access to driver information such as photo, car model & number and rating. Moreover, passengers are able to track their trip in the app, both before the driver's arrival to the pick-up location and during the ride, and can share the trip with a trusted contact.
Uber also rolled out a series of hygienic safety features and policies to help communities move easily throughout the pandemic. Both drivers and riders are now required to wear masks during trips and have to confirm they have understood and are complying to the health & safety measures recommended by world health organizations.
In Romania, as well as in other countries, Uber is using a technology that verifies if drivers are wearing a mask by checking the selfies they take before going online. All users are reminded in the app that they should wash their hands, sanitize the vehicles and keep windows open in order to facilitate ventilation during their rides.
*The promo code is available for a maximum amount of 7 LEI, applicable for two trips. The code can be used only once and is valid from April 22nd to May 2nd, 2021.