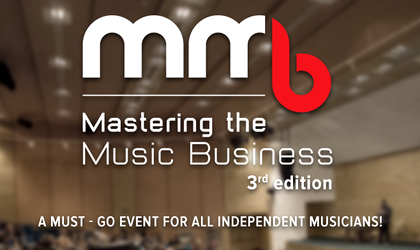 Mastering the Music Business, the first conference organized in Romania on topics related to the musical industry, dedicated especially to the independent artists, but also to the other professionals in the musical industry – managers, booking agents, PR agencies, tour managers, lawyers, promoters, representatives of major and independent labels – reached its third edition. The event will take place 20-22 March 2018 and will be held at Aula Hall at the Ministery of Culture (Bucharest, 22, Unirii Blvd).
The 2018 edition will continue to bring to the participants various networking opportunities with professionals in the music industry and the adiacent industries, that will bring ideas and new technologies presentations, but also success stories, in the first two days of the conference and workshops.
Other topics featured are the online and streaming distribution, debates on the topic of artistic management, meetings with representatives of the main societies of collective administration and success stories of artists of all generations.
The conference opening speech will be given by Tudor Chirila, the Vama band singer, producer, song writer and actor.
"I found out withgreat happiness that Mastering The Music Business, a conference about music and all the various chapters of the musical industry, will take place next year as well and it is important to know that is good for you to be there, if you are artists or future artists. I think that the moment has come when the artist needs to be aware that he is active in a world that is changing month by month and he needs to know what contract he signs, how to promote himself, when to sign a record deal, when to become independent and so on and so forth. All of those situations will be debated during the conference with international and speakers that have aligned themselves to the dynamics of the musical industry. Therefore, I am advising you to buy your ticket and be there!," said Tudor Chirila (Keynote speaker, MMB the third edition).
There will also be the showcases' evenings of some Romanian and international bands found at the beginning of the road or that want to present their new live shows in front of an auditorium formed of professionals of the musical industry and not only.
"I am extremely happy that we find each other in the position of announcing the third edition of Mastering The Music Business, a project that started in a shy manner in 2016. In 2017, at the second edition, we almost doubled the number of participants comparing to the previous year and the echoes in the market continue to be very good. We found an extraordinary openness from the behalf of all those that entered the stage of the conference in both editions, something that motivated us to identify and bring in the future program even more professionals from Romania and nit only" said Anca Lupes, conference founder.
Romanita Oprea