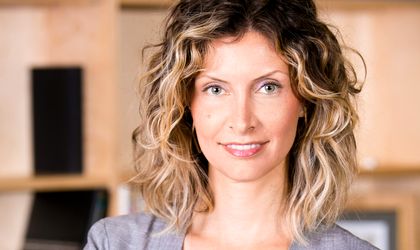 Oxygen is a 360 communication agency with extended know-how, working for local and international brands from fields such as IT&C, real estate, retail, financial services, constructions, FMCG, HoReCa, etc. BR talked with Tereza Tranakas Founder & Managing Partner Oxygen and found out more about the agency's plans for 2020, as well as its activity in 2019 and the trends and industry's path.
By Romanita Oprea
This interview is a follow up of last year's edition, one that you can read here.
How was 2019 for the agency in terms of turnover /revenues?
2019 was probably the best year in terms of revenue, exceeding EUR 2.5 million, and I have to give credit to my team, and especially our Client Service Director Adina Trandaf and New Business Director Andreea Filip. They carried the agency forward with excellent results in terms of new and existing clients, quality of work and maintaining a good and positive company culture, which all reflected in the bottom line.
What about the pitches entered?
In an agency's life, pitches are the ongoing flexing of the creative muscle. We get into them, selectively, in order to flex that muscle and win new business. We are happy to have won most if not all of the pitches we entered and to add new high profile clients such as Bank of China and others, to our portfolio of multinational companies.
How would you characterize the local PR industry in 2019 in terms of budgets, campaigns, creativity, etc?
Budgets have remained stable, but the level of creativity required and delivered has certainly increased – we can see this also from the awards entries.
What were the most important changes & novelties in the agency in 2019?
We've consolidated our corporate communications department with the addition of new talent with solid expertise, and we can proudly say we have one of the top teams in the market. On brand communications, we have also further developed our team and capabilities. We are working diligently to grow the team with client-oriented professionals – especially looking into growing creative and integrated marcomm capabilities.
What trends did you notice on the local market last year and how do you intend to follow them /represent them at your agency? What do you foresee for 2020 from this point of view?  
There's a greater focus on strategy & creativity, on the use of data & insights and digital. We foresee these trends will continue and these are areas that we've also developed upon.
What do you hope for 2020 for the PR Romanian industry? What about for Oxygen? 
We want to continue seeing great work, many creative campaigns and fair play in the market. Oxygen is among the top players on the market and our aim is to continue setting a high standard for the industry and to give value to clients through our 360-degree know-how and professional work. Our focus has always been on delivering strategic and creative solutions that yield results. Which is what we'll continue in 2020 as well.
How is your agency in Cluj developing? Please tell us more about it. 
The agency in Cluj-Napoca is growing steadily, we are very pleased with the progress. The local market requires a lot more education and more bravery in terms of creative campaigns, but we are persevering. Our local team headed by Ruxandra Marin has done great work for local clients and multinational brands with a presence in Northwestern Romania.
What are the changes you intend to bring in the agency in 2020 and why?
We've done an internal and external brand audit for the agency in 2019, and we've made some changes in our organizational structure, we will re-launch the brand this year and will focus on a more integrated approach to clients in order to deliver even better and more creative campaigns with strong results.
Where do you see the Romanian PR industry compared to the European PR industry?
I believe we are very strong in comparison with the rest of Europe in terms of know-how, creativity, digital skills, new trends.
Is the migration of seniors influencing the local industry?
There is a human resources shortage on the market in general, which is affecting also the communications industry. This also creates a false inflation in salaries, which is not sustained by an equal growth in clients' budgets. This is a challenge we all have to tackle.
Where do you believe to be our industry's main problems and how can they be changed?
The current challenges are related to the shortage of specialized people and the continued pressure on budgets. We see a lot of briefs with "low budget, high creativity" that ultimately puts pressure on us – having to deliver high-quality work with good people. This is an industry-wide problem all around the world, from what I have been reading in respect to the challenges in other countries as well.
How do you see the lines blending between PR, social media and advertising today?
There are no lines anymore, it's all blended, and we see the most value with interdisciplinary teams delivering what is best for the client, not bound by a certain channel. That's why we're restructured Oxygen to become a full-service integrated agency.
How of an important role are still having the consultancy and the strategy?
Strategy and consultancy are extremely important, along with creativity. We have invested constantly in training our senior team members on strategic matters and business modeling, and place a great emphasis on ensuring every brief, project and campaign comes with a solid insight and strategy.