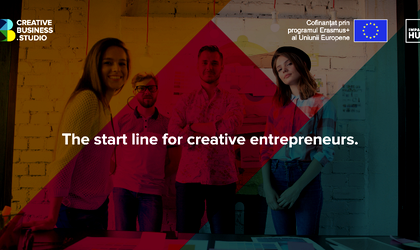 Impact Hub Bucharest, together with 4 other Impact Hubs in Europe, launches an international business acceleration program dedicated to creative industries. Young entrepreneurs are invited to register their business ideas on the platform, and selected participants will benefit from an intense program that will help them grow and launch their own businesses. In Romania, the program is organized in two cities, Bucharest and Cluj-Napoca.
Creative Business Studio is the starting line for creative entrepreneurs in six European cities (Bucharest, Cluj-Napoca, Lisbon, Madrid, Siracusa and Vigo). They will have the chance to launch their products or services and get funding through crowdfunding platforms.
The project is funded under the Key Action 2 of the European Union's Erasmus + Program: Strategic Partnerships in Education, Training and Youth, which aims to build bridges between partners from several countries in order to increase international cooperation through product development quality and innovative education.
"The Creative Business Studio program is an additional initiative to develop the entrepreneurial ecosystem and to help develop a bidding market, that of creative industries, by opening up to local and international resources provided by the Impact Hub network. Here we see the opportunity to take an extra step in supporting the next generation of entrepreneurs and, as coordinators, we have assumed the mission of showing the potential of creativity and innovation when complemented by business tools and mentors' expertise with which we work," said Lucian Gramescu, Incubation manager, Impact Hub Bucharest.
The program is dedicated to young entrepreneurs aged between 19 and 30 who live in one of the participating cities, develop creative products or services and want to set up a business. It is also important to have already taken a first step in this direction – for example, they have developed a MVP, organized an event to present the business idea to their friends or created a landing page.
Some of the areas targeted include: graphic design, crafts, product design, gaming, web design, fashion.
What does the program include?
Creative Studio – a series of workshops on topics relevant to a start-up entrepreneur: crowdfunding, business models, value proposition, financial, marketing.
Access to mentors with industry experience.
Supporting the development and launch of a crowdfunding campaign.
Marketing Bootcamp International in Madrid.
All the details and accelerator program are available at www.bucharest.creativebusiness.studio and at www.cluj-napoca.creativebusiness.studio.
Enrollment is simple, free of charge and involves filling in the online form on each participating city page. The deadline for entries is October 7 for Bucharest and October 12 for Cluj-Napoca.