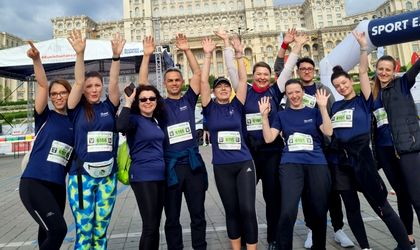 One of the benefits provided to the employees of Nestlé Romania, the largest food and beverage company in the world, is The Good Nest project – a well-being project for employees through which people are encouraged to live as healthy a life as possible, from all points of view, physical, mental, food. The newest initiative within this project was for Nestlé to support the participation of several employees in the most recent running competition held in Bucharest on May 13 and 14.
65 Nestlé Romania employees ran at the Bucharest Half Marathon 2023: Semi (11 Nestlé runners), Cross (40 runners) and Fun Race (14 runners). The company provided entry fees and sports equipment, so that Nestlé runners became uniquely visible in the context of the races.
"At Nestlé, we put the well-being and safety of our employees first. This is the 8th year in a row that we are running in large numbers at various sports competitions. I am very proud of my colleagues, my colleagues, who ran in this competition and proved that we are a team in excellent physical shape, not just professional. And I'm glad that we are one of the companies that really support physical movement and healthy living", says Nicoleta Tupiță, registered dietitian and Nestlé Southeast Market Nutrition Manager.
Participating in this weekend's road running competition is just one component of The Good Nest project, in which several activities are organized for employees, such as: massage, nutritional counselling sessions and body composition measurement, Pilates for posture, session dance class "Shake your stress", soccer training for colleagues, stress relief session through humour and laughter "Find your joy", and a psychological counselling and support program. Also, during the pandemic, wellbeing activities were moved online, with employees benefiting from a series of webinars on various nutrition and wellbeing topics.