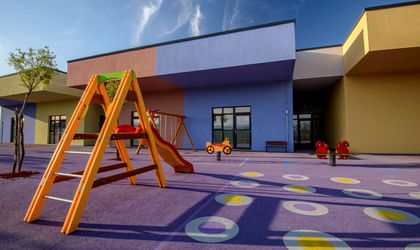 Continental Sibiu, technology company, announces the finalization of the location's kindergarten extension, operating both as a nursery and kindergarten, exclusively for the children of the employees. From the opening in 2015 and until now, over 1.2 million euros have been invested in the kindergarten building, equipment, extension and continuous improvement.
With the extension, the kindergarten has now an overall surface of almost 2000 m² – that includes an exterior playground of 850 m², 8 classrooms, sports room, kitchen, medical room, and other amenities, all equipped with modern furniture and facilities tailored to the needs of the children.
"For us, the kindergarten of the company is part of our success story here in Sibiu, and we are happy to offer this benefit to our employees, now with an increased capacity of up to 160 places. Being the largest and most desired employer in the region, it is our priority to ensure the right work-life balance for #PeopleOfContinentalSibiu and to support them in managing more efficiently one of their most valuable resources: time. Furthermore, we are also recruiting specialists outside the city, and we want to offer them and their families a smooth integration in Sibiu", says Lacramioara Daraban, Head of Human Relations at Continental Sibiu.
The educational services within the kindergarten are provided by the "Maria Clara Kindergarten Association for Education", authorized, and accredited by the Minster of Education. Part of the costs with these services are covered by Continental, ever since the opening of the kindergarten in 2015. The employees' children can benefit of bilingual education: German or Romanian plus English courses, without additional costs. Also, various extra activities are available such as ballet, dance or chess and children are involved in different events, sometimes even inside the company.
You can see how the kindergarten is looking by checking the following link: Continental Sibiu Kindergarten for Employees Children | Romania – YouTube