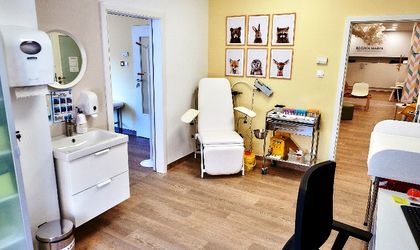 The Regina Maria health network launched its first private pediatric clinic in Craiova – the University Polyclinic. With an EUR 500,000 investment, the new clinic is centrally located in the vicinity of Craiova University.
Since the opening of the first Regina Maria clinic in Craiova, the healthcare network has invested more than EUR 2.2 million in state-of-the-art technology, equipment and equipment. These investments have facilitated access to consultations, investigations, medical analyzes, occupational health services to the nearly 100,000 patients who have turned to network services only in the past year, with 13,000 subscribers.
The health companu expects that in the first year of opening we will offer medical services for the 50,000 inhabitants of Craiova and the cities of the region.
The Regina Maria University Polyclinic has an area of ​​410 sqm, has 12 cabinets, including 7 pediatric offices, 2 obstetrics-gynecology offices, 2 surgeries, a treatment room, covering a range of over 14 medical specialties.
"We are glad to open the first pediatric clinic in Craiova, a place with big doctors for both children and their mothers. We continue the series of local investments, started in 2014, with the launch of the first Regina Maria clinic in Craiova and supported in 2016 by the Helios Medical Center, "said Fady Chreih, CEO Regina Maria.
The health network Regina Maria is the private medical service operator in Romania that brings together over 5,000 employees and collaborators in its 47 own locations in Bucharest and the country. The company has a portfolio of over 490,000 medical subscriptions and operates 47 own locations, 5 hospitals, 4 day care hospitals, 2 maternity clinics, 8 medical campuses, 18 imaging centers, 21 analytical laboratories, own stem cell bank and over 290 of polyclinics partner in the country.