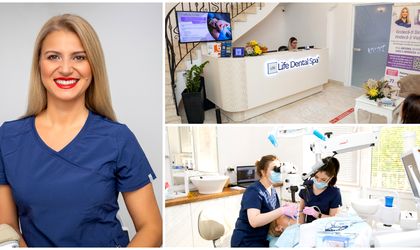 A dentist at Life Dental Spa clinics, with 10 units nationwide, specialising in state-of-the-art, pain-free laser treatments, can earn up to EUR 10,000 a month, well above the average income in the sector.
These incomes are earned mainly by experienced medical professionals specialising in dental surgery or orthodontics.
If in the case of a dental surgeon things are quite clear, he is responsible for precision interventions in the oral cavity, the orthodontist is the one who deals strictly with the diagnosis, prevention and treatment of dento-facial anomalies, such as reverse bite, mandibular prognathism, deep and open bite, dental crowding or other dento-facial problems.
"We have collaborating doctors who can earn up to EUR 10,000 in a month. They are doctors specialised in dental surgery, orthodontics, prosthodontics or periodontology. The specialist doctors in our clinics work on a collaborative basis, they have normal working hours – 6-8 hours, but we also have part-time doctors. The average income of a dentist in our clinics is around 5,000 euros per month", stated Cristina Obreja M.D., certified dentist in the use of laser technologies and co-founder of Life Dental Spa.
According to Cristina Obreja MD, the age average of the medical staff in Life Dental Spa clinics is 30-35 years old.
"Using modern laser-based solutions for treating dental problems, we have especially wanted to collaborate with young doctors who are open to the new, eager to embrace a technology that will revolutionize the dental field in Romania. We are in a continuous process of identifying flexible doctors, who are open to learn new technologies and working protocols – innovation is the most important asset we can transfer to patients, through quality services.", added Cristina Obreja MD, who says that most of the medical team, currently numbering more than 80 specialists, comes from smaller clinics, where they do not benefit from state-of-the-art technology – and do not have the opportunity to work multidisciplinarily – something that does not exist in small cabinets.
A dentist in Romania earns on average around EUR 3,500 per month. Salaries could rise by 40% in the next 5 years
The gross salary (before taxes and without bonuses) of a dentist in Romania ranges from RON 140,000 per year (RON 12,000 per month) for an entry-level position (1-3 years of experience) to over RON 250,000 per year (over RON 20,000 per month) for a senior position (over 8 years of experience), according to SalaryExpert data.
The trends in the dental market, the increasing demand for specialists and the growing number of patients in need of specialist treatment could see dental practitioners' incomes rise by around 40% over the next 5 years, a report by Salary Expert also shows.
"The modern technologies that we have managed to bring to the Romanian market will not only make the patient experience more pleasant and easier, but will also attract more and more specialists who will want to leave traditional medicine behind and seek a holistic approach, focused on efficiency and success. We are constantly investing in the development of our clinics, in our teams, in the development of our medical staff, because we live in a century of change and medicine is one of the sectors where new things are always happening.", Ștefan Obreja added, investor and co-founder of Life Dental Spa.
Countries with the highest salaries in dentistry
According to a UK study ranking countries by medical spending, the United States, Belgium and Denmark are the countries with the highest salaries for dentists globally. Eight of the top 10 countries, however, are in Europe.
The average gross salary of a dentist in the US is around £180,000 a year (over €200,000 a year), a dentist in Belgium around £150,000 a year (~€169,000 a year), and a dentist in Denmark around £146,000 a year (~€165,000 a year).
Investment of more than EUR 2 million in 2023 for at least five new locations: 'We are looking for partners to grow with'
The Life Dental Spa team has plans to open at least five new state-of-the-art dental clinics, with several cities across the country on the list.
"We are looking closely at cities such as Ploiesti, Timisoara, Constanta, Targu Mures, Galati, Craiova, Giurgiu, Bacau or Suceava. We are also looking into the possibility of opening in all of these or in new ones, depending on our ability to identify partners to join our business. We are also considering existing locations with medical teams who want to go to the next level and we are open to collaborate with entrepreneurs or intrapreneurs who want to invest, together with us, for a return-on-investment in a very short time", said Stefan Obreja, investor and co-founder of Life Dental Spa.
According to the Life Dental Spa representative, the investment budget for a partnership location starts at €20,000 for a minority stake in the business and can go up to 49% of the business.