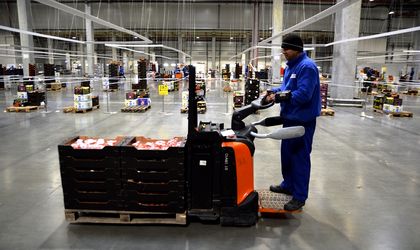 FM Logistic has signed a new contract with Carrefour in Romania – the fresh division (fresh / chilled, fruits and vegetables) over a 2 year period for the logistics of products requiring controlled temperature – fruits, vegetables, food , within the Carrefour warehouse in Chiajna-Ilfov. The partnership starts in October 2017.
According to the partnership, FM Logistic will carry out logistics, warehousing and cross-docking operations at controlled temperature for fruit and vegetables (+ 6 / + 8 ° C) and food (+ 2 / + 4 ° C) such as product reception, handling, order preparation for delivery to Carrefour stores in Romania, and IT flow management.
Thanks to its international partnership between FM Logistic and Carrefour in countries such as France, Poland, China and Brazil, FM Logistic is also strengthening its partnership in Romania in the area of ​​logistics with controlled temperature.
"We are delighted to find FM Logistic Romania as a long-term partner, with whom we share the same philosophy of performance and contribute to building the Carrefour omni-channel business model. The long-term collaboration we have with FM Logistic consists in entrusting a strategic segment of our logistics operations and we are convinced that the vision and involvement of FM Logistic in providing high quality services will also confirm in Romania the same good collaboration that exists traditionally at Group level, between our companies. Commitment, proactive management and solid logistics expertise are arguments for the continuation of this partnership, as well as ingredients that strengthen Carrefour's leadership position in the food transition, offering all consumers fresh and tasty, low-priced products at all Carrefour Group stores in Romania and from the online environment, "said Bogdan GRIGORESCU, Carerfour Romania Logistics Director.
With operational excellence due to the work of 150 dedicated Carrefour employees, over 15 million coaches are prepared annually and delivered to 261 Carrefour stores, reaching the final consumer's table. The operations are performed in 3 shifts / day, 6 days / week, according to the highest quality and safety standards, respecting the HACCP system – a food safety management system based on the assessment and prevention of contamination risks.
The retail market, in particular the fresh products sector, is a strategic development direction for FM Logistics, and innovation and continuous improvement are at the heart of FM Logistic operations, with the most recent projects implemented in Romania in this regard being "voice picking" Free hands portable, weight training, HR department solutions for peak activity management, helping to increase operational productivity, optimize logistics costs, increase flexibility and improve the quality of service.
"With the start of my collaboration here, we have found a professional work environment, a well-trained team, and last but not least we have found the support we need to develop our collaboration with Carrefour. Slowly, but surely, we have succeeded in gaining the trust of the customer, the confidence gained by the seriousness that the whole team has shown,"said Catalin GHEORGHE, customer manager, responsible for all logistics operations for the Carrefour customer, the fresh division.
FM Logistic operates in 6 main sectors – food, retail, household goods and personal care, cosmetics / luxury products, pharmaceuticals, industrial and electronic products, and is present on 3 continents in 5 regions (Western Europe, Central Europe , Eastern Europe, Asia and Latin America), has 25,000 employees and a turnover of over 1 billion euros, made 63 percent off France, proof that the international aspect of the company is more than a reality, is an advantage major. In 2015 FM Logistic has developed the CityLogin solution – distribution within cities according to European sustainability demands, initially implemented in Rome, then in Madrid and Paris, and soon Milan, Warsaw and Moscow.