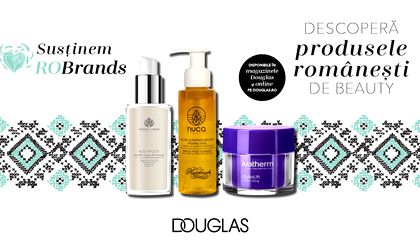 DOUGLAS, Europe's leading premium beauty and health platform, announced the development of the category through the onboarding of new products and brands. RO Brands remains the only premium beauty platform dedicated to local products and manufacturers two years after its launch. Currently, the category includes 33 brands and 1.300 Romanian products.
RO Brands, launched in 2020 on the Douglas.ro online platform, supports local brands and provides consumers with the opportunity to purchase products from an increasing number of local manufacturers. With 1.300 items available on the platform, the category includes products from the following categories: personal hygiene, face and body care, makeup, accessories, and perfume. Amongst the most popular brands are Cupio, Dr. Elena Martin, Ivatherm, Synergy Therm, Nuca organic and Ibrow.
In addition, over the last year, the home & lifestyle subcategory was also introduced – it includes home accessories and candles. The addition of these new types of products is a direct result of DOUGLAS' clients' requests and demonstrates the importance of their nominations. Ever since the launch, a significant percentage of the brands added to the RO Brands category came from the nominations sent in by consumers. Romanians can still share their preferences for local brands by sending their proposals and suggestions to the robrands@douglas.ro email address.
"For DOUGLAS, the RO Brands category is one of the most important development areas. Two years after our launch, we are still the only premium platform that supports and promotes local products and manufacturers, which motivates us even more in our mission to encourage these brands. Furthermore, we are happy to see the involvement of DOUGLAS clients, who are constantly sending us nominations, and we are pleased to say that with their help, we were able to create extraordinary relationships with the creators of these local brands, learning so much about how they work and what we can do to better support and promote them," says Lavinia Ivas, Country Manager DOUGLAS România.
Local manufacturers benefit from support in promoting their products on social media, in addition to being included in the RO Brands category, through activities that bring DOUGLAS clients face-to-face with brand representatives. To consolidate the relationship between consumers and the founders of local brands, the DOUGLAS Digital Team has organised a series of live shopping sessions on the @douglasromania Instagram account. Amongst the local manufacturers involved in these types of actions are Dr. Elena Martin, NN Cosmetic, WaWa Fresh Cosmetics, and Nuca Organic.
In 2023, DOUGLAS will continue to actively develop the RO Brands segment – in addition to the 33 brands already listed on the platform, the company's purchasing department is intensively researching the Romanian market in search of new local cosmetics producers.