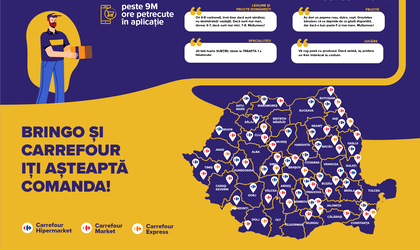 After five years of collaboration and presence in the e-commerce market in Romania, Carrefour and Bringo celebrate 5 million orders placed in the app.
These further translate into over 10 million app visits and 750,000 messages left by users for the Bringo delivery and Carrefour picker teams, who take on the role of "personal shoppers." Top products ordered from the over 150 Carrefour stores integrated into the app in all formats – Hipermarket, Market, Express and Supeco – include bottled water, cucumbers, bananas and Romanian parsley, proving consumers' interest in fresh products.
Over the course of 5 years, over 30,000 pickers and deliverers completed the 5 million orders. The two partners plan to expand the service in all major cities in Romania, after the beginning of the year was marked by the introduction of the fast delivery option, supported by medium and small store formats, in 15 new cities: Bacău, Craiova, Arad, Ploiești, Galați, Brăila, Botoșani, Piatra Neamț, Oradea, Pitești, Sibiu, Târgu Mureș, Baia Mare, Buzău and Râmnicu Vâlcea. In the last three cities, fast delivery was launched just this week.
"We have reached an important milestone, which proves the strength of our partnership with Bringo and consumer confidence in both the products and services we provide. Carrefour's promise is a broad, integrated omnichannel universe that leverages strategic partnerships. Together with Bringo, we are heading towards personalizing the shopping experience in a way that is as flexible and efficient as possible, adapted to the dynamic lifestyle, while maintaining the guarantees of quality. We will continue our plans to strengthen this partnership and expand Carrefour's presence on the platform, with a focus on the 30-minute fast delivery service, through which we contribute to the penetration of e-commerce at national level.", said Julien Munch, CEO of Carrefour Romania.
—
"Bringo, together with Carrefour, celebrates not only 5 million orders but also recognition of its important place in the e-commerce market where it leads the grocery delivery segment. It is an opportunity for us to thank the Romanians for their trust and the teams of pickers and deliverers for best representing us before our customers. The Bringo basket consists of over 50% of fresh products such as butchery, fish, fruits and vegetables, bakery, milk, and eggs from Carrefour. Therefore it is a reason for joy for us to be the choice of customers when it comes especially to fresh products. Our shopping and delivery model is unique on the market and is based on closeness to the consumer, in which Bringo is not only a service but a reliable partner, a personal shopper, through which we can make our purchases easily and safely," added Ioana Ilie Dobre, General Manager Bringo.
Top products ordered from Carrefour
Top products ordered by Bringo users from Carrefour include bottled water, cucumbers, bananas, parsley ties, blueberries, peppers, and green onions.
At the same time, BIO products from Carrefour are among the items preferred by Bringo users. Thus, out of the 5 million orders, Bringo personal shoppers and deliverers have selected and delivered over 1,700,000 products from the BIO category, including BIO ingredients, dairy, grocery products, snacks, cosmetics, alcoholic beverages, baby food, butchery products and frozen products. Incidentally, interest in fresh produce is also seen in the number of cherries ordered – over 8,200 kg.
"We are seeing an increased appetite in recent years for fresh and niche products, such as organic or those associated with special diets. Our entire system in the stores is designed so that our pickers help Bringo deliverers to complete orders as quickly as possible and the products reach our customers as fresh as possible. There is a significant audience at the intersection of Carrefour consumers and Bringo users, which grows from year to year and appreciates our services' complementarity. That is why we will include new stores in Bringo, in Market and Express format, to support the option of fast delivery in 3 new cities in July. We will continue to expand together with Bringo until the end of the year in all major cities of the country", added Gabriela Stănică, Chief Information & Data Officer and E-commerce Director,  Carrefour Romania.
At the top of consumer preferences were also:
almost 4,000,000 local food products, which include locally produced sausages and meat, fish, detergents, Romanian beer, and products from the Transylvanian area;
over 1,200,000 egg cartons;
over 360,000 products in the cheese category;
over 62,000 orders that contained at least one product in the frozen category;
over 6,700 Carrefour Drag de Romania private label products. In addition, consumers chose other own brands such as Carrefour BIO, Simple, or The Quality Chain (Filiera Calității);
over 135,000 TEX garments, the top of which are men's products and home textiles;
nearly 80,000 toys, predominating those for boys and educational toys.
From the smallest to the most extensive orders
With the promise of choosing products just as customers themselves would select them and with standard, 90-minute, and 30-minute fast delivery options, Bringo deliverers registered even record delivery times of just 15 minutes. The most modest order was a loaf of bread worth 2 lei, and at the opposite end, the largest was worth over 4500 lei. At the same time, the most extended area covered for the order was over 30 km from the Carrefour store in Piatra Neamt to Bicaz. The most active user registered over 200 orders in the app, and the main comments introduced by consumers when placing the order referred to the freshness and ripeness of fruits and vegetables – for example, a variant of the phrase "not too green/raw, but not too ripe" prevailed.
Carrefour Romania is present in the Bringo platform with over 150 multiformat stores, replicating the product portfolio of the physical network: 43 hypermarkets, 71 Market stores (supermarkets), 25 Express stores, and 17 Supeco stores in the country.
The partnership between Carrefour and Bringo is based on the joint mission of the two to offer customers the best experience with each shopping session, flexible options, and more time for them, leaving shopping in the hands of personal shopping assistants. Bringo x Carrefour pick-up and delivery teams are always ready to choose each product according to the consumer's instructions and deliver it where and where they need it.