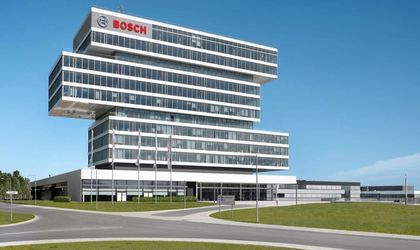 The Bosch Group's sales and output peaked in 2018 to a new historic high. According to preliminary results, the technology and services provider generated a sales volume of EUR 77.9 billion last year. Sales outcomes have been seriously affected by exchange rate fluctuations to the tune of EUR 2.1 billion. Taking into account the adjustment for the effects of the exchange rate, it results in a 4.3 percent increase in revenue.
"Despite the difficult economic situation, Bosch did well in 2018. Sales and results are once again at a record level," said Volkmar Denner, chairman of the board of Robert Bosch GmbH. "As a leader in innovation, we want to shape the change in the markets we operate, both technologically and business-wise. Our strategic focus on connectivity has had great results."
Bosch sold a total of 52 million internet-connected products in 2018, 37 percent more than 2017. Earnings before interest and taxes (EBIT) reached nearly EUR 5.3 billion. It is likely to generate an EBIT margin of 6.9 percent.
"Bosch seeks to grow at better rates than its markets and ensure its high level of revenue, despite the difficult economic conditions we are expecting," said Stefan Asenkerschbaumer, vice president of the board of directors and CFO. "We plan to increase the competitiveness of all our business sectors to finance our expansion of leadership in technology and, along with it, the future of our company."
Automation I: initial investment of EUR 4 billion
One of the focal points of the company's research and development (R&D) activity is automated management. As part of the road to accident-free mobility, Bosch pursues two development paths. The first of these concerns driving assistance systems, which will allow partial automated driving of private cars (Automation Levels 2 and 3). Bosch is a leading technology and market leader in this field. The company this year estimates revenues of EUR 2 billion from the sale of driving assistance systems. The second way of development will lead to driverless driving from the first part of the next decade (Automation Levels 4 and 5).
"Driverless cars will change the rules of the game in terms of individual mobility. This will pave the way for innovative business models such as robot taxis and shuttle-based mobility," said Denner. Due to the technical complexity of automation, Denner considers it a central investment point in the future: "By 2022, we estimate our initial investments will reach about EUR 4 billion."
Almost 4,000 engineers from Bosch work in the field of automated driving.
Automation II: Comprehensive ecosystem for mobility services
The market potential of automated management is huge: between 2015 and 2030, individual mobility will increase by 50 percent. Therefore, over the next ten years, analysts estimate a market value of automated hardware and software for about USD 60 billion (source: Roland Berger). By 2025, most of the 2.5 million on-demand shuttle buses around the world will be without a driver (source: Roland Berger).
Experts estimate that by 2035 sales on shared mobility will reach nearly USD 160 billion (source: BCG). Bosch will offer both technology and services for this form of mobility. The company's mobility services ecosystem combines solutions and services for booking, payment, parking, recharging, administration, maintenance and infotainment. One of these services is Load Comfortable, a connected navigation and charging solution for electric cars. Bosch's first loyal customer is the German manufacturer of electric vehicles Sono Motors. "With our connected solutions, we can make ideal electromobility for everyday use," Denner said.
Electrification I: Leadership in the Consumer Market
In 2018, Bosch obtained 30 electromobility projects worth several billion euros. By 2025, the company aims to increase sales in this area ten times, to a total of EUR 5 billion. "We want to lead the consumer market for electromobility," Denner said. In the electromobility field, no company has such a diverse range as Bosch. Bosch electrifies all types of propulsion systems, from bikes to trucks. Today, for example, more than one million vehicles worldwide are equipped with Bosch electric or hybrid components.
Denner continued: "In the future, people will say there is no electric vehicle on the planet without components from Bosch."
This is especially true for China, the world's largest electromobility market, where Bosch dominates already the segment of vehicles for passenger transport. The company has recently concluded a strategic partnership on automated and electric steering with China's NIO. In China, in 2019, Bosch will begin its e-axle production, a particularly compact solution for powertrain systems. A newly developed 48 V battery has entered production a few weeks ago. As early as 2030, 20 percent of new cars globally will be partially electrified using 48 V systems. In addition, with the full acquisition of EM-GmbH, Bosch strengthens its position on the electromobility market, which is rapidly expanding world.
Electrification II: electrification of freight transport
By 2030, global goods traffic will be almost doubled (source: ITF). "We want heavy traffic that is not a burden on climate or air quality. Again, the key in this case is electrification, "Denner said. As early as 2030, one in four global commercial vehicles – almost one in three in China – will be at least partially electrified. Bosch can take advantage of this: the company's product portfolio for the transportation of emissions-free goods includes 36-volt electrical systems for freight electric bicycles, electric motors for light commercial vehicles, such as those manufactured by StreetScooters and used by German Post, electric bridges for vans and heavy vehicles, e-axles for semi-trailers and, in the future, 40-ton fuel cell propulsion systems for trucks.
"Whether it's partial electrification, full electrification, battery systems and electric or fuel cell batteries, we're ready for the market," Denner said.
Artificial Intelligence I: Bosch's key area of ​​expertise
In the future, Denner believes that a key area of ​​expertise will be the industrial application of Artificial Intelligence (AI). "By the middle of the next decade, we want all our products to be equipped with AI or AI to have played a role in developing and manufacturing these products. Indeed, US and Chinese companies dominate the AI consumer industry, "Denner said," but without expertise in areas such as traffic, production or buildings, their potential will remain behind industrial AI.
"Denner said Bosch has established ambitious goals: "As a leader in innovation, we want to become experts in AI and join the global elite."
To this end, Bosch has planned to increase four times the number of experts in the company's AI from 1,000 to 4,000 employees until 2021.
Artificial Intelligence II: Success in space and on the road
Employees of the Bosch Center for Artificial Intelligence work on about 150 projects. One of these is the SoundSee sensor system. "The SoundSee algorithm applies machine learning to listen if there is anything wrong," Denner explained. This allows them to predict equipment failure, thus reducing maintenance costs and increasing productivity. The solution will be delivered to the International Space Station (SSI) in May this year.
Bosch believes that the system can have commercial applications in areas such as automotive production, construction and engineering. Another example of the AI progress is the multi-function video camera for automated driving, which combines image processing algorithms with AI methods. The result is a smart car video camera that can, for example, identify pedestrians and then recognize and predict their behavior immediately.
Company performance in 2018 by business sector
Bosch Operational Units have enjoyed good performance in 2018. Sales of Mobility Solutions have outpaced global auto production again. According to preliminary figures, sales rose 2.3 percent to EUR 47 billion. Given the currency-adjusted adjustments, this is an increase of 4.7 percent. The consumer goods business sector recorded sales of EUR 17.8 billion, a 3.2 percent drop. The adverse effects of the exchange rate and strong price pressure on key markets had a negative impact on business development for BSH Hausgeräte GmbH and Bosch Electric Tools.
Depending on the exchange rate, sales increased by 0.9 percent. In regard to the Industrial Technology sector, sales reached EUR 7.4 billion. This sector also recorded the highest growth of 8.9 percent. Taking into account the exchange rate adjustments, the increase was 11 percent. In particular, the Drive and Control Technology Division continued its evolution. Bosch is currently planning to sell the business with packaging equipment within the Industrial Technology Division. The Construction and Energy Technology Division generated sales of EUR 5.5 billion. This is an increase of 2.3 percent or 4.7 percent after the exchange rate adjustment.
Business development in 2018 by region
In Europe, the Bosch business has grown positively, with sales reaching EUR 41 billion. This figure is equal to a 2.1 percent or 3.7 percent increase after the exchange rate adjustments. Most of this increase comes from Germany and Austria. In North America, sales rose to EUR 12.3 billion. With the exchange rate adjustments, this is an increase of 7.9 percent, while nominal growth is 2.8 percent. The main factor for sales growth was the business in the automotive industry. In South America, sales remained below the level of the previous year.
The main factor was the extremely negative effects of the exchange rate on key markets in Brazil and Argentina. In nominal terms, sales fell by 7.8 percent to EUR 1.4 billion. Considering exchange rate adjustments, sales increased by 8.9 percent. Sales in Asia Pacific and Africa rose 0.4 percent to EUR 23.2 billion. With the exchange rate adjustments, the increase was 3.1 percent. Currently, the region represents just under 30 percent of total sales.
The number of employees increases by 7,800
Worldwide, the Bosch Group's number of employees reached approximately 410,000 on 31 December 2018, the reporting date. This represents an increase in the number of employees by more than 7,800 compared to the previous year. The largest increases in the number of employees were registered in Europe and Asia Pacific. The number of employees in Germany increased by 1,700. Demand for IT and software companies remains high.
Outlook for 2019: ensuring a high level of revenue
For 2019, Bosch estimates the global economy will grow by 2.3 percent.
"Our cautious forecast is based on the many ongoing geopolitical events, such as Brexit's unresolved problem and various trade conflicts. In addition, protectionist and aggressive economic policies in the form of punitive tariffs or withdrawal from free trade agreements reduce consumer spending as well as reduce investment," said Asenkerschbaumer, CFO, Bosch.