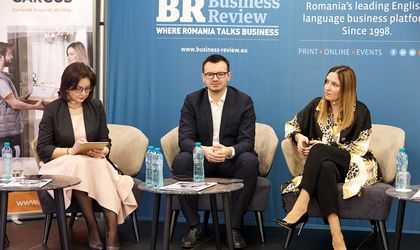 A speaker in Business Review's recent re:FOCUS on eCommerce, Retail & Logistics 2022, Sebastian Mahu, Head of Asset Management at IULIUS, shared some behind the scenes aspects from commercial real estate and talked about the Group's ongoing projects in this sector.
By Mihai Cristea & Deniza Cristian
As a general look about the perspective of IULIUS Company, Sebastian Mahu, Head of Asset Management, says: "At IULIUS we have several projects, yet the direction and the specifics of our work are mixed-use projects, but most importantly, the urban regeneration projects." When it comes to the reality of these days, with the changes brought by the pandemic in the business world, but not only, Sebastian declares that: "The concept of normality is continuously changing and we don't have any reason to hope about a comeback, we must adapt to the new situations we are confronted with. But, what I think it's really good is that the majority of players on the market, agencies, consultants, developers, operators, retailers, all of them have approached things in a proactive way, trying to find solutions and resources, so that they moved forward."
Drawing a parallel with the 2009 economic crisis, Sebastian Mahu also comments: "I'd make here a parallel with the 2009 economic crisis, when we've faced another situation, another typology, and other challenges, and back then we, the players on the market, weren't so flexible and adaptable, we approached things in a stiff manner, and that had an effect during the following years. Nowadays, even though things have been more severe, we've managed to be faster in actions and to adapt more quickly."
The tendencies of retailers' development in a physical space
When talking about the recent developments in industrial and commercial real estate, Sebastian comments: "I think that the dynamic of the logistics and industrial sectors in the past two years, made them the stars of real estate in Romania, after a long period of time of being in a shadow of residential, land, or office. Also, what happens in retail, is that two products have been crystalized, which are very distinctive, yet very resilient within difficult moments. I'm talking about the Retail Parks and Regional Malls concepts. They are similar as resilience, but very different as a product. On one hand we have Retail Parks that have as a sale point the convenience part, on the other hand we have Regional Malls which sell the experience. They are antithetic – the first one sells you time and logistic efficiency, but the other sells experience in terms of entertainment, which means that they are built totally different. We've discovered this and we've tried to implement them as well, that's why we'll inaugurate this year two concepts of Retail Park in Iasi County in two locations. On the other side we continue our mission to build community-driven projects, in which we try to create mixed-use spaces with, bringing together office, retail, and many other things."
The plans of expanding the IULIUS Mall Suceava
 "IULIUS Mall Suceava is the latest hot subject we have, and we've just announced three weeks ago a new expansion of it, yet feedback didn't cease to appear, and the interest shown in this project confirmed to us the opportunity that comes along with this decision. Also, the spaces are renting fast, and this happens because it is a period with fewer deliverable projects. We are optimists and we desire to bring in Suceava more of our concepts that our clients have gotten used to in Timisoara, Iasi, or Cluj, that create the perfect experience, specific to IULIUS."
The IULIUS Mall Suceava expansion will feature a 14,000 sqm leasable area, structured as a retail park, and another existing area of 10,000 sqm will be reconfigured and refitted. In total, IULIUS Mall Suceava will have an area of over 65,000 sqm, strengthening its position as largest and most important shopping and entertainment venue in northern Romania. The new development, an EUR 40 million investment, will supplement the attraction points featured by Iulius Mall Suceava with a new mix of international fashion brands, drive-thru locations, stores and services accessible directly from the exterior, including premises of the local entrepreneurs and producers, but also a leisure, relaxation and promenade area, with themed restaurants and cafés, and open-air terraces. Furthermore, the project will integrate medical services as well, and a green and pedestrian area covering approximately 10,000 sqm, which will be fitted for open-air events.
The commencement of the building works is estimated to occur in the second half of this year, and the completion of this investment will occur at the end of year 2023.