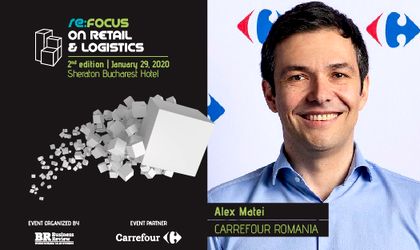 Alex Matei, IT & Digital Transformation Director at Carrefour Romania, will be a speaker at Business Review's re:FOCUS on Retail & Logistics event on January 29, 2020, at the Sheraton Bucharest Hotel.
Alex Matei joined Carrefour Romania in 2001 as an IT Specialist, a position he held until 2010, and rose through the ranks at the company as an IT Technical Manager (2010-2013), ISO (2013-2014), before becoming Information Technology & Digital Transformation Director in June 2014.
With a degree in Computer Science from the Polytechnics University in Bucharest, Matei's 18 years of experience made him one of the best specialists in the process of digitizing a company. Under his watch, Carrefour introduced ChatBot to Facebook Messenger, for employees and prospective candidates, the first chatbot of a Romanian retailer, and the Carrefour Pay app, a self-scan service launched in November 2018.
"Traditional and digitized retail and e-commerce will coexist in a new ecosystem that will center on the customer and his or her needs. Customers can choose between traditional, digitized, retail in store, e-commerce, or express delivery, based on time, experience, product availability, and commercial offer." Alex Matei told Business Review in a May 2019 interview.
With re:FOCUS on Retail & Logistics, Business Review is committed to revealing the latest trends and predicting the future ones, while offering solutions to nowadays challenges of retail & logistics.
Local and foreign players, developers and industry experts come together for a series of panel discussions, keynote speeches and case studies from entrepreneurs choosing online or brick-and-mortar businesses, providing know-how and unique opportunities.