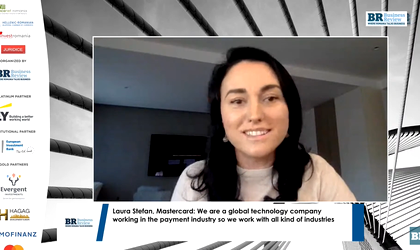 Digitalization is on the agenda of every company, including that of Mastercard, which is not just a payment provider, but a global technology company. Digitalization has a major impact on our lives, and that is why we need better IT&C education in schools. And the economic importance of digitalization was confirmed – albeit in an unfortunate manner – by the pandemic, as we experienced an urgent need for a shift between the offline and online modes.
With the pandemic having strongly hit the hospitality sector, Mastercard has created a programme to help these businesses, called HoReCa Together
"It is an educational platform that provided all kinds of information, from global education tools to local best practices, and taught entrepreneurs how to digitalize their business and make sure that they can get through this period," said Laura Stefan, Business Development Director at Mastercard Romania.

Innovation and digitization are at the core of Mastercard
"Innovation and digitization are at the core of everything that we do. It is our main mission to incentivize the adoption of innovation and digitization with all our stakeholders starting from consumers, moving on to governments and institutions of all kinds. The agenda digitization is business as usual for us, for many years now. I would like to bring here an example from 2018, when we organized The Innovation Summit at the Palace of Parliament, where we showcased the latest technologies that have to do with payments." Says Laura Stefan. "We also organized a Roundtable bringing together both public and private stakeholders, where we introduced the white paper that had to do with the impact of digital governance in Romania, bringing to the table subjects like the impact of digitization in business. We emphasized the importance of having digital skills taught in schools and the importance of having a focus on e-commerce, while supporting small." The Mastercard Romania representative explained.