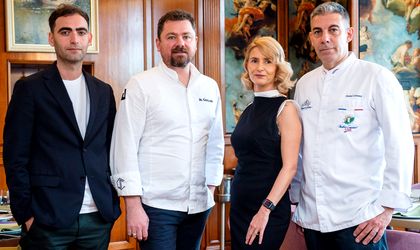 The Suter Palace Heritage Boutique Hotel in Bucharest announces the rebranding of the Le George restaurant, which recently became Gramont. The place takes its name after Viscount de Gramont, one of the cultural and political personalities who marked Romanian society in the late 18th, and early 19th century.
The new brand is meant to strengthen the restaurant's positioning as a promoter of fine gastronomy, where French cooking techniques, specific to the Provence region, meet quality ingredients, such as tasty Romanian fruits and vegetables or "grand cru"-certified French, such as the Rougié foie gras, Gravlax salmon, Yellowfin tuna, Salers beef and more.
All these ingredients are carefully curated by David Contant, who has been running the hotel's kitchen for over two years. A constant explorer, the chef spends much of his time looking for quality products and new flavors, visiting Romanian markets, in Bucharest and in the country, or traveling to lesser-known places, in Europe and around the world, to discover local preferences.
Gramont aims to create a gastronomic society, inspired by an older, charming Bucharest
"As we learned more and more about the history of the palace and its surroundings, we were inspired by the elegance of the Viscount Louis Antoine de Gramont, an extremely refined character, known for his discretion, excellent reputation and the way he valued art and beautiful things. French by birth, the noble fell in love with Romania and chose to spend his life here. Two centuries later, we set out to return to these eternal principles and make this restaurant a tribute to good taste. Moreover, we were attracted by the cyclicality of history, because we also have a French chef, who, although he could have settled anywhere in the world, chose to stay in our country", said Alexandru Stoian, General Manager of the Palace Suter.
Thus, the operators of Gramont, Alexandru and Ruxandra Stoian, aim to transform the new restaurant into a gastronomic society, a community based on values ​​such as respect for the terroir, appreciation of local heritage, embracing the diversity of all cultures and care for sustainability and nature.
The Gramont Gastronomic Society will bring together bons vivants and explorers, refined people who appreciate the world through all their senses. For them, food is a cultural expression of life, a form of art.
The members of the Gramont Gastronomic Society will have access to unique events, such as four-hand dinners with some of the world's most renowned and award-winning chefs, wine tastings and meetings with personalities from art and culture.
The new identity of Gramont comes with a seasonal menu that takes guests on a cultural journey around the world
Under the culinary vision of David Contant, who holds, since 2020, the title of Maître Cuisinier de France, one of the highest culinary distinctions offered by a French association, Gramont aims to become a gastronomic destination, where stories are told through aromas, colors and textures. The restaurant's kitchen, thus, becomes the playground of the chef who will use his recipes and techniques to share life experiences and take guests through a series of culinary journeys to countries in Asia, America and Europe.
"From Vietnam to the Philippines, from Uruguay to Tuscany, you will never know where the next Gramont menu will take you, but you can rest assured that it will always stop in Romania, a country that I love and appreciate for its hospitality, for the beautiful landscapes and the produce it offers us", said David Contant, chef Gramont.
The restaurant's rebranding comes with a new seasonal menu, which includes fine dishes such as Rougié foie gras nougat with pistachios, almonds, tonka beans and creamy apricot cream, Salers beef tartare and pollock, with artichoke hearts and pesto.
All these can be paired with exceptional local and international wines. Among the restaurant's most refined labels are Petro Vaselo Grand Cru, Château Petrus 1955, Château Margaux 1973 or Château Mouton Rothschild 1972.
The launch of the Gramont restaurant took place through a series of four-hands events
The launch of the Gramont restaurant took place through a series of four-hands events, during which chef David Contant cooked alongside Jean-Rémi Caillon, whose restaurant, Le Kintessence, in Courchevel, France, was awarded, in 2023, 2 Michelin stars.
The two delighted the restaurant's guests with menus in which they expressed their creativity and created unique dishes, paired with Romanian and Moldovan wines.
In 2022, the fine dining restaurant of the Suter Palace generated revenues of 3.5 million lei
Owned by Vasile and Claudia Albulescu and operated by Alexandru and Ruxandra Stoian, two professionals with over 12 years of experience in HoReCa, the restaurant generated, in 2022, revenues of 3.5 million lei, with an average check of 400 lei per person.
In the last two years, the owners have invested approximately 1.5 million lei in refurbishing and equipping the space, which coherently combines classic lines with contemporary design elements.