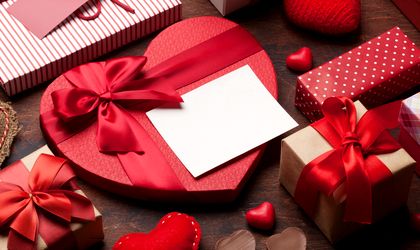 The Mastercard Love Index, an annual statistic released by Mastercard on Valentine's Day, shows that the global "love economy" is growing five times faster than the regular economy. In the meantime, Romanians are proving to be some of the most generous lovers in the world, with spending on Valentine's Day increasing by 66% in 2019, compared to 2017. The analysis looked at credit, debit and prepaid card transactions, and was conducted in over 53 countries around the world, on a 4 day period during 3 consecutive years (February 11-14, between 2017 and 2019).
Worldwide, the same statistic shows that spending on Valentine's Day went up by only 17%, while a 57% advance was recorded in the number of online transactions. In our country, the number of total transactions went up by 97%, while they seem to have a soft spot in their hearts for tech, the number of online transactions going up by 77%, once again proving the loving nature of Romanians (no pun intended).
Like in most of the world, love goes through the stomach in Romania also, a fact confirmed by the 110% increase in transactions made in restaurants. At the same time, the number of hotel transactions also went up, by 38%, while traveling transactions grew by 90%.
Proving that Romanians truly are incurable romantics, flower sales almost doubled in 2019 compared to 2017, while jewelry sales also recorded a 63% growth.
"The trend of choosing this kind of gifts continues to grow and it's clear that the current generation prefers to turn Valentine's Day into an opportunity to connect with their loved one, through a shared experience. Today, it's easier than ever to travel, and this is reflected in the massive growth of online bookings for flights and accommodation in the recent 3 years. Mastercard Love Index is a unique analysis of the evolution of buying behaviors, and, as we just entered a new decade, we expect that the trend of investing in order to create shared memories with a loved one to continue growing." Says Ioana Tachescu, Marketing Director at Mastercard Romania.
Photo: dreamstime.com