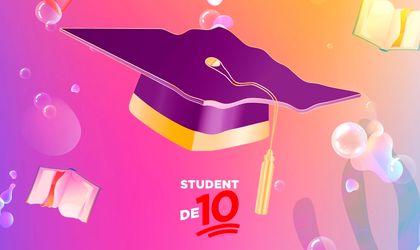 The organisers of Europe's biggest beach festival, Neversea, are rewarding Romania's top students with free entry to the 4-day festival. This means that students enrolled in state universities who finish with 10 in all exams in the summer session 10  will have the opportunity to see the most popular artists of the moment and enjoy unforgettable experiences by the sea, by receiving free festival passes.
Now at its first edition, "STUDENT de 10" is a campaign to promote and support performance in education that continues the "BAC de 10" project initiated by UNTOLD in 2015. "BAC de 10" is known as the longest running and most successful campaign to support young people who excel at learning. Over the years, Neversea has rewarded more than 1,000 A-plus high school graduates with free festival admission and unique memories as part of the "BAC DE 10" campaign, and now they want to take the approach further to students.
The initiators of the campaign believe that young students should be rewarded and the efforts of those who have managed to excel in education should be supported. So all students at state universities in Romania who finish the summer session with top marks receive a free ticket to Neversea.
In addition, all students who have passed all their exams in the summer session will be able to purchase a Neversea pass at a special price of EUR 80 + fees. Graduates who wish to be rewarded for their performance as part of the campaign can do so by going to http://neversea.com/studentde10. There they will be able to fill in the form that will enter them in the campaign.
Students of 10 will be able to pick up their access badge, upon proof, in the Neversea Accreditation area. The "STUDENT OF 10" campaign is supported by Kaufland Romania.
EDY CHEREJI, UNTOLD UNIVERSE Communication Director: "After the success of the "BAC DE 10″ campaign, this time we are rewarding performance in education at university level. All students from state universities in Romania who finish with an A in this summer's session will be rewarded with free access to the Neversea festival. And because we want to encourage all students who are still, or have been in session this summer, full students will also receive a discount on their Neversea pass. "
ESTERA ANGHELESCU, Recruiting & Employer Branding Director, Kaufland Romania: "Supporting the "STUDENT DE 10" campaign was a natural step for Kaufland Romania, complementing a long-standing initiative, "BAC DE 10", which rewards high school students' outstanding results. This time, we wanted to support not only the exceptional academic achievements, but also the efforts, seriousness and commitment of students who pass all the exams, who will benefit from a substantial discount to enjoy the Neversea experience. In addition, we support young people who want to take the first step towards a successful career with an attractive package of programs and jobs dedicated to young people, all accessible through a fast online application process at careers.kaufland.ro. And because we know how important a flexible schedule is for students who choose to pursue an internship or want to get a job, they even have the option to opt for a part-time job, which allows them to dedicate time to their studies or passions."
Neversea is Europe's largest music festival held on a beach. Now in its fourth year, Neversea 2022 brings more than 150 Romanian and international artists to Constanța from 7-10 July. Artists such as Black Eyed Peas, Dimitri Vegas & Like Mike, TYGA, Alan Walker, Don Diablo, Alesso, Steve Aoki, Timmy Trumpet, Ummet Ozcan, Tujamo, Claptone, Nicky Romero, Nervo, Quintino, Parov Stelar and many more will take to the stages of Neversea 2022. Details on neversea.com.