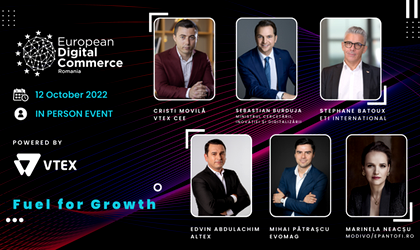 European Digital Commerce powered by VTEX has become one of the most important retail events in the region, bringing together hundreds of specialists, dozens of speakers and hours of premium content. On October 12, 2022, get ready for a full day of interactive debates, hands-on presentations and quality networking.
You can sign up for free online participation in the platform, or you can be present at the event, for live communication with the speakers and participants, and relax at an exclusive cocktail party.
The event is designed to generate business opportunities and valuable content for you and the business you represent. How can you adapt to the challenging economic and geostrategic environments we face today? What tools should you use to engage with customers and get them to buy more and more often? We will discuss, among other things, future technologies and how you will be able to overcome your competitors through them.
All these topics and more will be covered during over eight hours of content from European Digital Commerce (EDC). Due to the high interest shown in previous editions, EDC will cover the entire day with panels where we effectively analyze the different industry verticals with relevant presentations and exclusive information.
EDC gives you eight hours to learn about new trends and new tools for the retail industry and connect with some of the industry's most accomplished C-Level Executives. FMCG; Grocery, fashion, electroIT, and DIY, are just some of the verticals we will cover on October 12. In addition, the event will bring together SEO, PPC and eCommerce platform experts.
Speakers and companies joining the event
This year's speakers include Stephane Batoux (CEO ETI International), Laura Nica (Director of Ecommerce Auchan Retail), Marinela Neacșu (Growth Manager Modivo/ePantofi.ro), Dan Sturza (Vice President of Business Development at Elefant.ro), Cristi Movilă (Eastern Europe General Manager VTEX), Edvin Abdulachin (Commercial Director Altex), Mihai Pătrașcu (CEO EvoMag.ro), Roxana Dumitru (Marketing Manager De'Longhi Romania), Mihaela Sima (Head of Ecommerce Studio Moderna) and many others.
Sebastian Burduja, the Minister of Research, Innovation and Digitization from Romania, will also be present at the event, who will present the perspective of a state on digital commerce and answer the participants' questions.
European Digital Commerce will take place on October 12 and you will be able to participate by registering both on the IC Events platform, online and in person, at Le Chateau, Bucharest.
Sign up now to stay informed and gain a competitive edge in an increasingly dynamic and competitive digital retail industry.