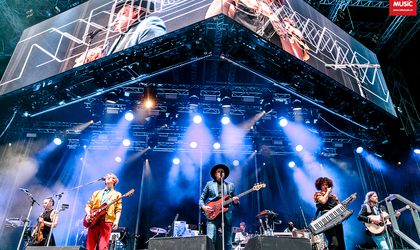 Bucharest is home to many music festivals. In summer, in particular, and early autumn, they attract music lovers from the city and beyond for rock, alternative, folk, world and metal music performances by a variety of local and international artists.
Rock the City
The lineup of this two-day festival is a mix of local bands during the day and iconic bands and artists that have shaped the history o music by night. Past performers include Metallica, Rammstein, Nick Cave and Arcade Fire, at the latest edition of the festival.
Bucharest Jazz Jestival
Hosted by the George Enescu square, next to the Romanian Atheneum, this is one of the most popular festivals taking place in the heart of the city. Performances by a variety of Romanian and international artists accompany the visitors through warm July evenings in one of the city's most picturesque areas.
Metalhead Meeting
In July, metal heads from everywhere flock to Bucharest for a two-day celebration of rock music. The lineup is usually made of international names with a strong following in Romania. One of the few festivals anywhere to offer ticket discounts to groups, it is held at popular venue Arenele Romane, in one of the biggest and most beautiful parks of the city, Carol Park.
Summer Well
Summer Well's motto is : 'A festival like a holiday' and that pretty much sums up the vibe of this two-day August festival. Held at Buftea, an hour's drive from Bucharest, in the forrest surrounding the Stirbey estate, it is undoubtedly one of Bucharest's best festivals. With its attractive lineups, it manages to keep up with the hottest names of the moment as well as allow the local public to meet the biggest alternative music stars.
Outernational Days
Every September, under the label Outernational Days artists from around the globe come to Bucharest bringing with them their unique cultures and singing style. Traditionally held at Uranus Garden, in one of the most picturesque part of the city, it allows the locals to explore and discover the diversity of world music.
Balkanik! Festival
Also held in September, Balkanik! Festival is Bucharest's leading world music festival. Hosted by Gara Regal Baneasa, it welcomes to Bucharest a variety of artists with a passion for the music of the Balkans. The line-up usually provides a good mix of Romanian and foreign artists that keep the crowds dancing all night.
George Enescu Music Festival
One of the biggest classic music festivals in this part of Europe, the George Enescu Music Festival takes place every two years. For a month, the enthusiastic local public welcomes to Bucharest the world's biggest orchestras and philharmonics. As many of the tickets are sold out ahead of time, classic music lovers who don't manage to get their hands on a ticket can always attend one of the outdoor performances taking place in the George Enescu square, a few steps away from the iconic building of the Bucharest Atheneum.